I can hear you say, it's impossible to do Crete in a week! And you are right. After all, it is the largest of the Greek islands and you would be best advised to spend at least two full weeks there to see everything this beautiful and multi-dimensional island in the Mediterranean has to offer. But money and time are precious for those working all year round, so sometimes I don't want to blow either on a single holiday. So, if you only have one week, like I did, you could focus on one region only, for example either the eastern or western part of the island. In my case, I focused on Western Crete:
West Crete in 7 days: my itinerary
I chose to visit West Crete, because you can fly to Chania airport, where I was able to hire a car and drive into Chania town in just 15 to 20 minutes to find my pre-booked accommodation. It was super convenient and proved a great starting place to see some of  the best of Crete for a solo traveller like myself. I often go on singles holidays as I enjoy company on holiday, but this time I chose to travel by myself and stay in Chania, which proved to be the perfect base for visiting the many attractions Western Crete has to offer.
Day 1: Tersanas Beach & Chania
Tersanas Beach was my first destination and a perfect introduction to the splendid crystal-clear waters of Crete. I enjoyed exquisite pork souvlaki (skewers) in a small Greek tavern right on the seaside – a lovely way to sample authentic Greek cuisine. Later that night, I  headed out for an evening in Chania, perhaps one of the most fascinating cities in Western Crete but also famous for a lively nightlife.
Day 2: Elafonisi & Chrisoskalitissa Monastery
Certainly, the most famous beach on the Island of Crete, the lagoon of Elafonisi is a gem to be admired, albeit no longer a secret one. The sand is pink, the water is a deep hue of turquoise and the atmosphere is one of utter calm and serenity – that is, if you don't go in peak season! Naturally, the water is wonderfully warm in the shallow waters so if you are travelling with kids, it's the perfect place to be. I have been to many remote beaches, including the Caribbean, but nothing even comes close to this picture-perfect place. One downside: Getting there is not easy, whether you take the mountain route, the coastal route, or the bendy, narrow road I took from Chania.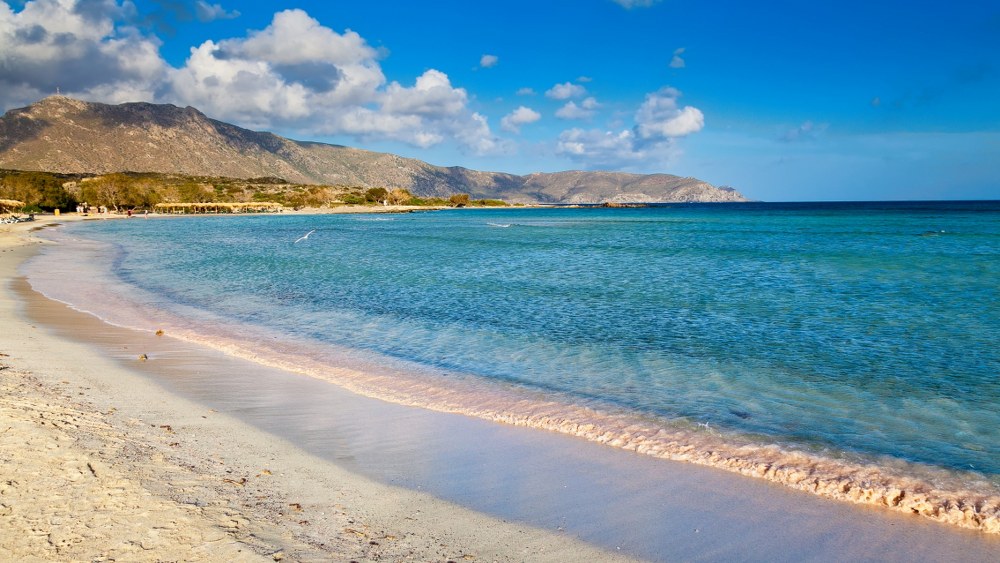 On the way back to my accommodation I stopped to visit the Panagia Chrisoskalitissa Monastery. The fortress-like nunnery is perched on a rock high above the sea and has a timeless charm about it. According to legend, the nuns hid the monastery's gold under one of the 98 steps of the staircase at the entrance to the monastery when the Ottomans conquered Crete. And this "golden step" is what gave the monastery its name.
Day 3: Falasarna Beach and ruins
Just 50 minutes west of Chania you will find the harbour town of Falasarna with its expanse of unspoilt white sandy beaches, pretty coves, and simply stunning blue and turquoise waters. The beauty of the beaches here is second to none! The main beach of Falasarna is wide and windy. I hired a deckchair and parasol and had my lunch and drinks delivered by a boy on a quad bike! If you get bored at the beach, which seems unlikely, you could wander off to see the imposing ruins of ancient Falasarna at the north of the beach.
Day 4: Rethymno and Arkadi Monastery
Driving along the pretty north coast of Crete is quite enjoyable especially when the oleander along the coastal road is in full bloom. So, I didn't mind the one-hour drive to Rethymno, a picturesque coastal town with a maze of cobbled alleyways. The impressive fortress with wonderful views across the sea towers above the town, and the equally pretty harbour with its honey- coloured lighthouse and inviting cafés and restaurants directly at the seafront.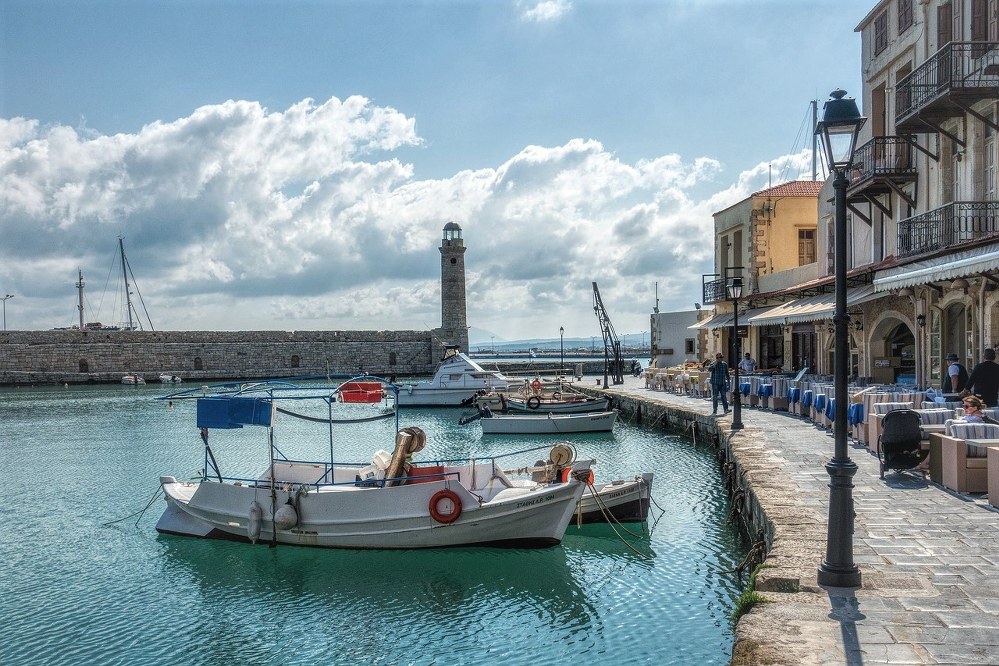 Just over 20 minutes' drive away, you will find one of the most important monuments of Crete, the Arkadi Monastery. The monastery is believed to have been erected by an Arkadian monk in the 12th century and, built on a high plateau, is a picture of fierceness and beauty. Today, the cracked walls of this ancient building are filled with local kitties who stand guard over the sacred memories of hundreds who died refusing to submit to Ottoman rule.
On my way back to Chania, I stopped at Souda Bay War Cemetery, the final resting place of the soldiers who died in Crete during the Second World War, including 1527 graves of Commonwealth soldiers.
Day 5: Stavros Beach and the Agia Triada Tzagarolon Monastery
Only 25 minutes from Chania, on the Akrotiri peninsula, Stavros beach was easy for me to get to and made for a relaxing day with little driving. It is famous for the ominous red mountain that towers over the deep blue sea and sandy cove below making for a somewhat peculiar sight. Its other claim to fame is the fact that a scene of "Zorba the Greek" starring Anthony Hopkins was filmed here in 1964. Visitors from all over the worlds still flock to Stavros beach for this reason today.
On my way home, I decided to pay a visit to the Monastery of Agia Triada (Holy Trinity), which is one of the most impressive and beautiful monasteries on the island. Its distinctive façade has Doric columns and elements of Renaissance architecture. Today, it is one of the most important monasteries in Crete, and has a huge influence on education in the island.
Day 6: Chania Town
After travelling around so much, I decided to spend a day on the sunny streets of Chania, with its colourful paved pedestrianised streets. Here you will find quaint little shops, traditional tavernas and cats at every turn. I indulged in Greek pastries and picked up a few pretty souvenirs on the way. I the evening, I headed to Daliani Street. Travelling solo can make meeting people more difficult or easier depending on where you are and how open you appear. I knew I had a good chance of meeting friendly locals here and striking up some interesting conversations and I wasn't wrong – the Cretans are so friendly, they will not let you sit in their bar all by yourself.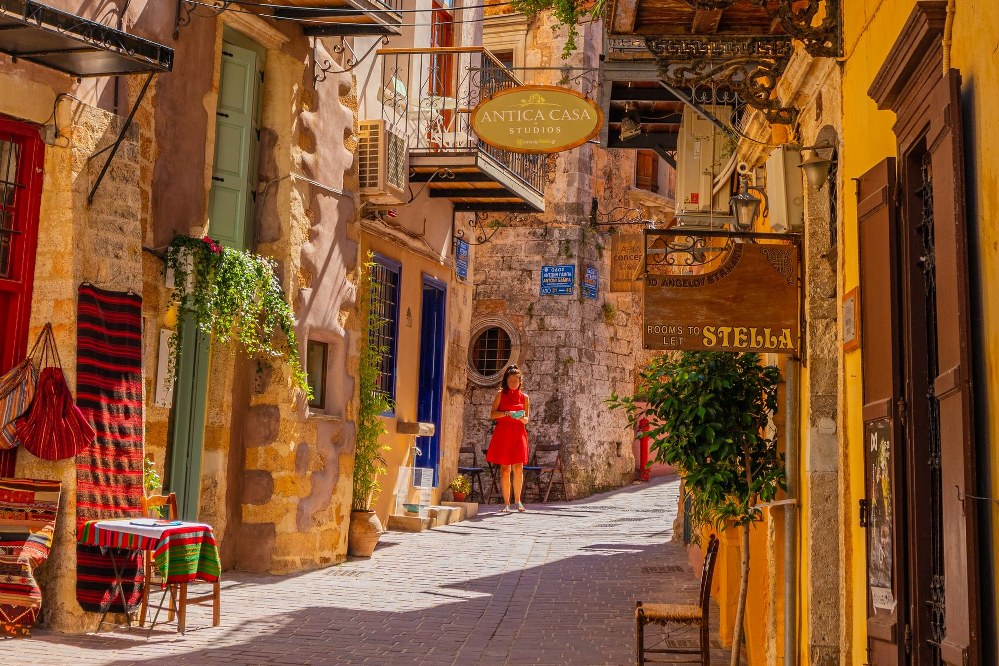 Day 7: Balos Lagoon
I saved the best for last! After having been to Elafonisi, I was pretty hooked on seeing another lagoon – but without the difficult drive. So, I chose to take the coastal road to Kissamos port and boarded one of Blue Daily Cruises to Balos. The speedy ferry ride was very enjoyable, especially the panoramic views. Balos Lagoon has water that shimmers in turquoise, vivid blue and white whilst the sand is pink in places, similar to that in Elafonisi.
What's special about Balos Lagoon is the rare flora and fauna. Many birds feed and breed here, both native and migrating species.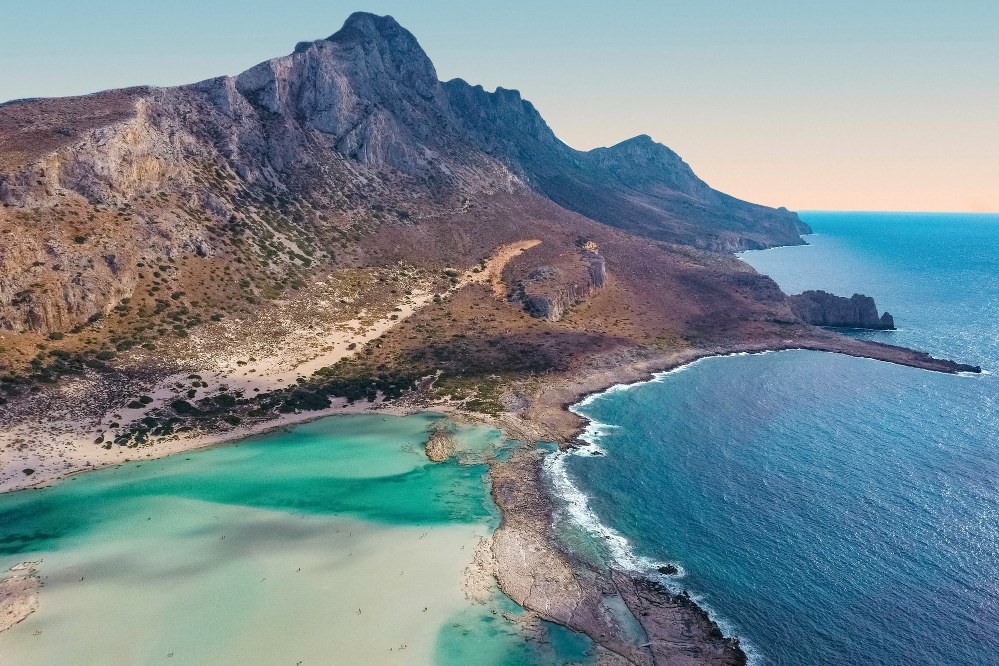 I hope I was able to give you some interesting insights about Crete from my solo trip. Of course, Crete is not just beaches and monasteries. The people are welcoming, the food is exquisite, there is plenty else to do. I purposefully did not visit the famous Samaria Canyon as it's a bit of a drive from Chania and by the time I had arrived, I would have experienced the canyon in stifling mid-day heat. For me, I much prefer the serenity and architecture of the beautiful monasteries and the Caribbean like beaches of Western Crete. And I will definitely be back!