Why the Algarve Should Be at the Top of Your Travel List:
Soaring cliffs, golden beaches and many hours of sunshine make the Algarve a favourite holiday destination for many Brits – families, single parents, solo travellers and singles. The southernmost region of continental Portugal offers an incredible lifestyle throughout the year. It is a water sports paradise for surfers, and not just along the less touristy west coast. There is plenty of history to explore, beautiful beaches that invite to relax, Albufeira boat trips to discover the coast, and plenty of excellent shopping options. To help you have the best possible time on your visit we have collated some insider secrets on fun things to do in the Algarve.
There are five things that really make the Algarve stand out: the incredible activities on offer, the beautiful weather, the delicious food, the stunning natural scenery, and the friendly, welcoming people. Keep reading to learn more about how these five elements come together to create an amazing experience that will stay with you for the rest of your life:
Friendly, Easy-Going People
Few things in life matter quite as much as the time that you spend enjoying the company of others. In the Algarve, the residents have a reputation for not only being easy-going but also incredibly friendly. Most of them speak English fluently. Overall, the atmosphere is very different compared to other areas in the Mediterranean region, such as France, Spain, and Italy. If you are  travelling solo, this will really make a difference to your solo holiday experience!
Delicious Food
Food plays a central role in Portugal's culture. The area has a variety of different types of cuisine available. Whether you want to stick with something familiar or experiment with some of the local cuisine on your visit of the Algarve, there is a little bit for everyone here. Because the area attracts residents from all over the world, you can find anything from Indian and Thai food to Italian and British cuisine in this part of Portugal. If nutrition is important to you, there are a number of places where you can grab a healthy treat like an Acai bowl.
In Portugal, the food is delicious and packed with flavour. Some popular local dishes include piri-piri chicken or sardines prepared on the grill or a special meat and fish stew known as cataplana. The Algarve's sunny climate makes it the ideal place to enjoy fresh fruit and freshly caught fish. After dinner, you can indulge in one of Portugal's famous desserts. Don't forget to pop into a local pastelaria as well on your visit of the Algarve to try out some of the region's pastries. Some of the sweet Portuguese delicacies you may want to try are the Pastéis de Nata (those delicious Portuguese custard tarts), Bolinhos de Amêndoa and Dom Rodrigo.
Incredible History
The Algarve, which has been around for more than 2,000 years, is an area that is rich with history. After being under the control of the Spanish, Romans, and Arabs, multiple cultural influences have left their mark on the area. The vast majority of cities and towns in the area grew from small settlements that were around during the time of the Roman occupation. The area's name, Algarve, comes from the beginning of the Middle Ages. It was then that the area was occupied by Muslims who called the region 'Al-Gharb', Arabic for 'the west'. The many different influences that have had an impact on the area throughout history have made the region uniquely diverse in terms of its architecture.
For some incredible examples of Moorish architecture, don't miss Silves on your visit of the Algarve. This town, which was the area's capital when the Moorish were in control, features some beautiful examples of architecture from that time. For example, there is a well-known castle in the area. Silves also holds an annual medieval Festival that thousands of people travel to take part in.
When you visit the Algarve, you should go and see the fortress of Sagres. It was here that a 15th-century Portuguese prince known as Henry the Navigator looked out across the ocean from the surrounding cliffs, questioning whether or not land was waiting to be discovered on the other side of the ocean. Henry the Navigator, who is most famous for beginning the Age of Discoveries in Europe, founded Sagres.
Beautiful, Relaxing Beaches
If there is one thing that the Algarve is famous for, it is its beaches. The beaches stretch from the border of Spain all the way to Sagres. There are beautiful hidden beaches and islands with clean, white sand between Faro and Tavira – not to be missed when you visit the Algarve! And in the area between Sagres and Albufeira, you can find beaches tucked away below towering sandstone cliffs. The two distinct areas of the Algarve's southern coast are referred to as Sotavento, which refers to the area with sandy beaches, and Barlavento, which refers to the rocky area with cliffs. The western coast, which is known as Costa Vicentina, is the ideal place to visit in the Algarve if you love peace and quiet and spending time in nature. This part of the Algarve has been designated as a natural park, meaning that there are no buildings or hotels in the area.
Fun after Dark
Once the sun goes down, the Algarve turns into the perfect place to party. The area is well known for its incredible nightlife, with plenty of fun and interesting clubs to explore so perfect for those seeking a buzzing nightlife on their visit.
Beautiful Natural Surroundings
If spending time in nature is at the top of your list, you should definitely add Faro and Ria Formosa, a natural park, to your travel itinerary. These areas have beautiful beaches, warm water, and a number of different species of birds. You can also take in the Old Town or explore some of the local museums to learn more about the area when you visit the Algarve. For a one-of-a-kind experience, try taking a boat taxi out to Ria's desert islands for some sunbathing. Alternatively, pay a visit to the Algarve's western coast to enjoy long, empty stretches of beach, stunning unaltered landscapes, and incredible rock formations. This area of the Algarve is protected, meaning that the local wildlife and the surrounding landscape haven't been altered by human development. If you want a break from some of the busier areas on your visit of the Algarve, this is a great place to get away, which is why we definitely recommend adding it to your itinerary.
Don't forget to check out some of the many orangeries on your visit. The Serra De Monchique mountains offer incredible scenery. You can also relax with a massage on the Villa Termal. Whether you want to restore your body or improve your respiration, a visit to the hot springs at Caldas de Monchique or a health retreat can help. In the northern part of the Algarve, which is the part least touched by human development, you can find small villages tucked away in the mountains of Serra do Caldeirao that have been untouched by time.
Unique Areas for Camping
If camping is your thing, there is no better place to go than the Algarve. Nothing is quite as amazing as waking up in the morning to a beautiful sunrise outside. You can find a range of campsites throughout the Algarve, such as Monte Gordo to Olhao, Albufeira, Lagos, and the island of Tavira. If you don't have a camper of your own, you can rent one from one of the local rental companies. To add a fun and historic element to your trip, why not stay in a vintage Volkswagen van during your visit?
One-Of-A-Kind Theme Parks and Zoos
In the Algarve, you can also find a number of water parks including Aqualand, Aquashow, and Slide & Splash. Barrelling down a water slide or having fun in the wave pool is a great way to have fun on your trip, especially if you are travelling with kids. Zoomarine is another great place to visit as a family. This water park, which is located approximately 6 km outside of Albufeira in a town called Guia, offers a variety of shows featuring marine animals like sea lions, dolphins, and seals. You can even swim with these amazing creatures. The Zoo of Lagos is also worth adding to your itinerary if you like spending time around animals on your holiday. From ponies and kangaroos to monkeys and bats, you can find a diverse range of animals at this popular zoo. Sitting on a bench watching the animals is a great way to learn more about them.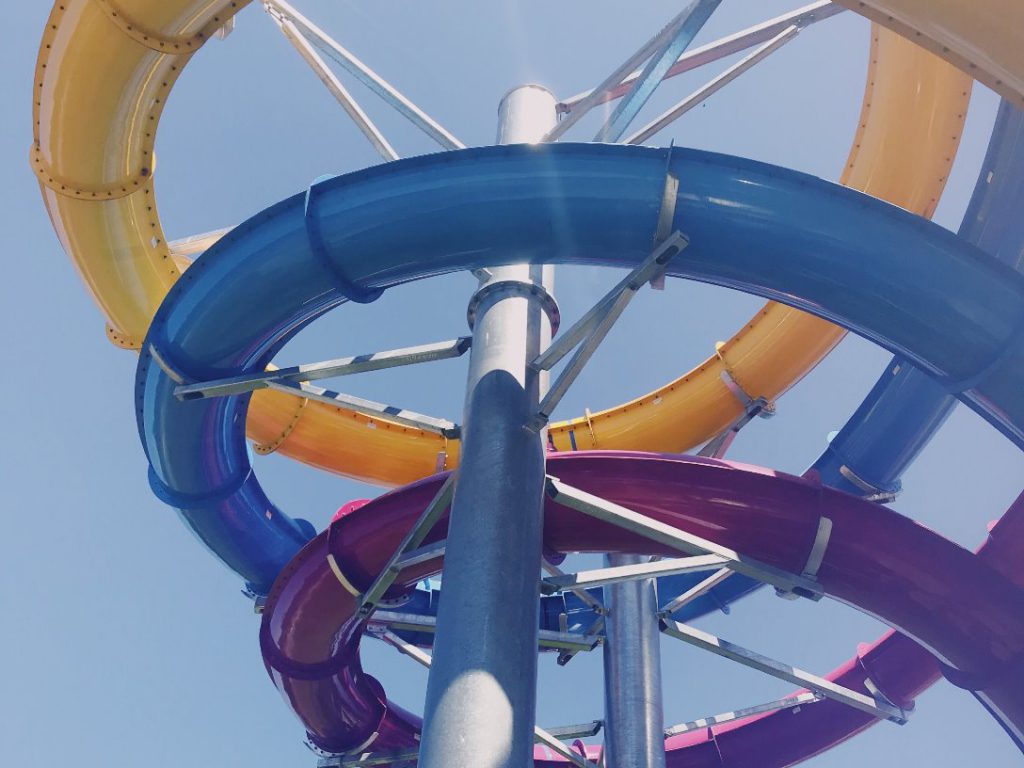 The Algarve is such a beautiful and welcoming place, it really has a little bit of something for everyone, whether you are travelling solo, as a single parent family, or with a group of friends. Whether you love spending time outdoors or would rather relax in a high-end resort, you now know that you can find it all here in the Algarve.
We hope you enjoyed reading our top tips when visiting the Algarve!
---
If you enjoyed the read then don't forget to explore some of our other recent posts:
And don't forget to check out our travel services page for a handy list of travel essentials including flights, insurance and parking. For example, Britannia Hotels have some great online offers. They have 52 hotels across the UK, offering comfortable, value for money accommodation with excellent facilities for all your overnight needs. They have hotels at most major airports which is ideal if you're catching an early flight and don't want the panic of commuting to the airport from on the day you fly.