From the London Eye to Camden Lock – just a few of London's best attractions.
While it is no Palm Beach – or any beach, for that matter, London holds the crown for the most-visited destination in Europe. As many as 27 million tourists a year throng the city, hoping to catch a glimpse of the rich culture and deep history it has to offer. So, whether you are one of the 1.8 million single parents living in the UK and looking for some day trip ideas with the kids this summer, or a visitor from abroad on a short break, London has plenty to offer for everyone: families, singles, young and old. In fact, the choice will boggle you, so we have tried to help you with a few suggestions! Here are the best places and must-see spots in London for a day trip or a city break:
Start with the London Eye
Start off with a ride on the London Eye to get your bearings. Also known as the Millennium Wheel, it has become a national icon since its formal opening on 31 December 1999. The massive Ferris wheel towers over the landscape, thus offering a lovely view of London and an awe-inspiring experience for the kids. Its pods are roomy, and you could either share one with other tourists or have a private pod to yourselves (for a steeper price, though).
The London Eye is located on the South Bank close to the London Dungeons and the London Aquarium, so you could visit one or the other after watching the street performers on the South Bank and picking up a tasty snack at one of the many cafés and restaurants dotted along the Thames. The London Dungeon, which recreates scenes from London's gory history (using special effects, live actors and plenty of British humour) is not for the faint hearted. Your teens will probably love it, but if you are travelling with young kids, you are best advised to visit the seahorses, dwarf crocodiles, and jellyfish next door!
Stroll around Hyde Park and Kensington Gardens
If you happen to be in London on a sunny day, take advantage and head to Hyde Park and Kensington Gardens. Only separated by the West Carriage Drive, the two adjoining parks are the most popular green spaces in the city, and the biggest as well. One of Hyde park's most famous attractions is Speaker's Corner, close to Marble Arch, a traditional spot for public speeches and debates since the mid-1800s which marked the beginning of free speech. Today, speakers continue to use the spot to talk about any subject they choose and this can be quite a spectacle to watch for kids.
The parks are also famous for its lakes – the Serpentine in Hyde Park is the comelier of the two water bodies. You could rent a boat and admire the lovely swans here. And if your feet (or more likely your kids' feet) are tired, you can relax in one of the deckchairs that can be rented for a small fee in Kensington Gardens. If you are travelling with little ones, you should take them to one of the lovely adventure playgrounds – the Princess Diana Memorial playground in the North East corner of Kensington Garden or the South Carriage Drive Playground on the southern boundary of Hyde Park, both wonderful places for young kids.
Glimpse Royalty at Buckingham Palace
Speaking of young kids, a great day out for the little ones is a visit of Buckingham Palace, weekday home to the Queen and Prince Philip and London residence of various other members of the British monarchy. The palace has 775 rooms, which include the offices of members of the royal family, function rooms, a public art gallery and if you want to see the grandeur of the throne room and the ballroom, to name but a few, check opening times before you set off.
If you don't want to spend your pennies on entrance fees, there is plenty more to see without paying. You could simply take the palace in from the outside, take photos and check if the Queen is home – if she is the Royal Standard will be flown above Buckingham Palace, otherwise it is the Union Jack. Another worthwhile experience is the Changing of the Guards, a ceremony, which usually takes place at 11.00 am on a Monday, Wednesday, Friday, and Sunday and daily in the summer. Head over to Wellington Barracks and watch the spectacle unfold as the Queen's guards march to Buckingham Palace complete with musical accompaniment. If you are travelling with young kids and want to avoid the crowds, get to Wellington Barracks a little earlier as the guards and band start playing and marching well before 11 am and the kids can get a close up view of the soldiers in their shiny uniforms and bearskins (those tall fur hats).
After all the excitement, head over to St. James's Park playground, which is conveniently located between Buckingham Palace and Wellington Barracks.
Break free in Camden
If you are going to North London, Camden is a must see. Here you can hunt for treasure in Camden's markets, sample cuisine from all around the world, listen to live music and stroll by the Regent's canal. Camden Town is home to many celebrities, such as Jude Law, Jamie Oliver, Daniel Craig and Daisy Lowe, to name but a few. You certainly won't get bored just people watching the diverse community in Camden's streets, which also boast several body mod shops. So, if you are considering a piercing or tattoo, you are in the right place.
Camden is most famous for its markets, which in pandemic-free times draw 100,000 tourists every weekend. One of the most popular markets is Camden Lock, where you will everything from artworks and music memorabilia to handmade clothes and street foods from all over the world. If you like vintage or retro, you are sure to find yourself some unique items here. Finally, if you think one day in Camden is not enough, you could lodge at the Selina Hostel Camden London, or take a stroll down to King's Cross.
Take a cruise on the River Thames
You cannot visit London without booking a cruise on the River Thames. Experience  the longest river in England, as it meanders through London and flows into the North Sea whilst resting your feet and getting a close view of landmarks like Tower Bridge and the London Eye. Luckily, several boat cruise companies run their services along the Thames, and you can find a boat departing once every half an hour offering anything from a cruise with authentic British afternoon tea or a romantic lunch for two to a dinner cruise with live Jazz entertainment. If you are in London for a holiday, you could even take a night-time cruise to experience a more scenic view, with all of London's lights and silhouettes.
Continue on to Westminster
Westminster is a district in central London, which includes many historic landmarks, such as the Palace of Westminster, home to the Houses of Parliament and Big Ben, Westminster Abbey and Westminster Cathedral. Westminster's famous clocktower, Big Ben is currently undergoing some reconstruction works, which is due to finish this year. So, if you're heading to London this summer, you are unlikely to hear its historic chime.
However, there's plenty to see in the area, with Westminster Abbey, the traditional place of coronation and burial site of many a British monarch, open to the public on most days of the week. You can also walk through Parliament Square and see statues of political figures such as Winston Churchill and Nelson Mandela.
Shop away on Oxford Street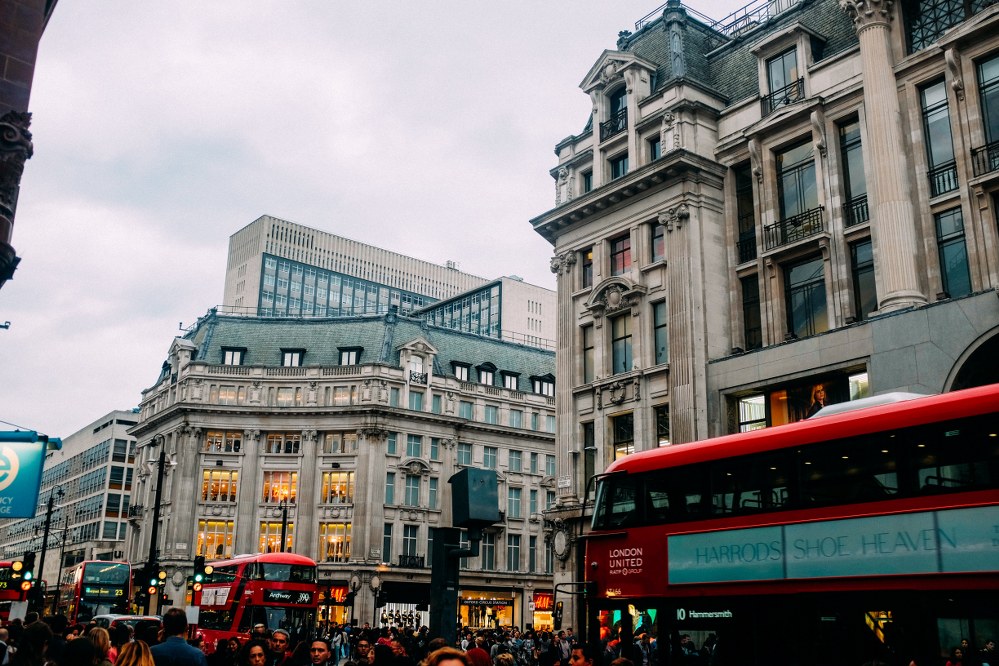 Whether you are a fashionista or need a souvenir from your London trip, you will find everything you need on the busiest shopping street in Europe, including that Swiss made watch you always wanted. Oxford Street is the ultimate shoppers' destination in London, with over 300 shops, with designer and departmental flagship stores leading the charge.
The good thing about the street is its adaptability to the seasons and people's shopping behaviours. Lights and attractive display mean that you would enjoy window shopping as well. And if you are travelling with kids, you can easily bribe them with the promise to pop into Hamleys, the oldest and largest toy shop in the world, which has its flagship store set over 7 floors on Regent Street – just south of Oxford Circus.
Wrapping things Up
London is the third largest city in Europe and with a history stretching back to Roman times, it has an immense amount to offer its 30 million visitors a year. The Metropolis houses over 9 million people split across distinct neighbourhoods and residential areas. The diverse and vibrant city has a lot to offer in the way of British and international culture, world class cuisine, and rich history. And with new attractions popping up all the time, you would be hard pressed to see them all in a day, let alone a week or a month.
So, if you only have a day to spare, it might be an idea to take the kids on free walking tour of London, or possibly more exciting, an open top double decker bus tour which allows you to hop on and off at many of the attractions mentioned above. And if you've got a few more days to spare, you could explore some of the other notable attractions in London, such as the Tower of London (you need to allow at least a half day here), Madam Tussauds, St. Paul's Cathedral and the Millennium Bridge, Piccadilly Circus, and Trafalgar Square with its famous statues and the National Gallery. If you're feeling more open to different non-English cultures, you'll appreciate London's many street markets offering artisan foods from around the world, London's own Chinatown, as well as famous Brick Lane, which not only has the best curry houses in London but is also an ethnic, cultural, and artistic hub.  Other places of interest include Covent Garden with its street performers and neighbouring Soho. There really are too many to mention here, but I am sure now you will understand now why London is one of the best places in England to visit!
About Single Parents on Holiday:
We offer group holidays for one parent families (beach, activity and farm holidays, ski trips and city breaks) as well as group holidays for singles and solo travellers. If you are single or lacking a ski buddy, why not join us on one of our upcoming solo ski holidays? We have added a glacier ski trip to our 2021 singles ski holidays programme for those who have missed out on skiing in 2021 due to COVID. Go to Hintertux glacier skiing for more details.