Xmas markets in the UK that you should add to your bucket list:
Do you get super excited when you when the most anticipated holiday of the year is just around the corner? In the UK, it's long been a tradition to enjoy the festive season by doing a series of activities, such as ice skating, visiting Santa's Grotto, and picking out a Christmas tree with the help of an elf, and, of course – visiting one of the best Christmas markets in the UK!
Indeed, the UK's cheerful festive Christmas markets have worked so hard at mirroring the Xmas fairs Germany and Austria are famous for, that they can easily hold their own now. They provide a beautiful and comforting atmosphere once night sets in. Wooden stalls beautifully decorated with twinkling fairy lights, tantalising aromas of sweet dishes and spiced mulled wine, fairground rides and ice-skating rinks will put both parents and children into a festive mood. So, without further ado, here is a roundup of some of the best Christmas markets in the UK:
1. German Christmas delights in Birmingham
Birmingham's Frankfurt Christmas market is regarded by many as the best in the UK, if not Europe. If you crave German foods, such as Bratwurst, Bavarian pretzels, Schnitzel, Stollen, or roasted almonds while sipping mulled wine and listening to holiday carols, this is the place to be. The largest German Christmas market outside of Austria or Germany consists of around 50 stalls offering not just delicious German foods, but also wheat bear, mulled wine, and hot chocolate, as well as toys, gingerbread hearts, jewellery, handcrafted gifts, and magical Xmas decorations.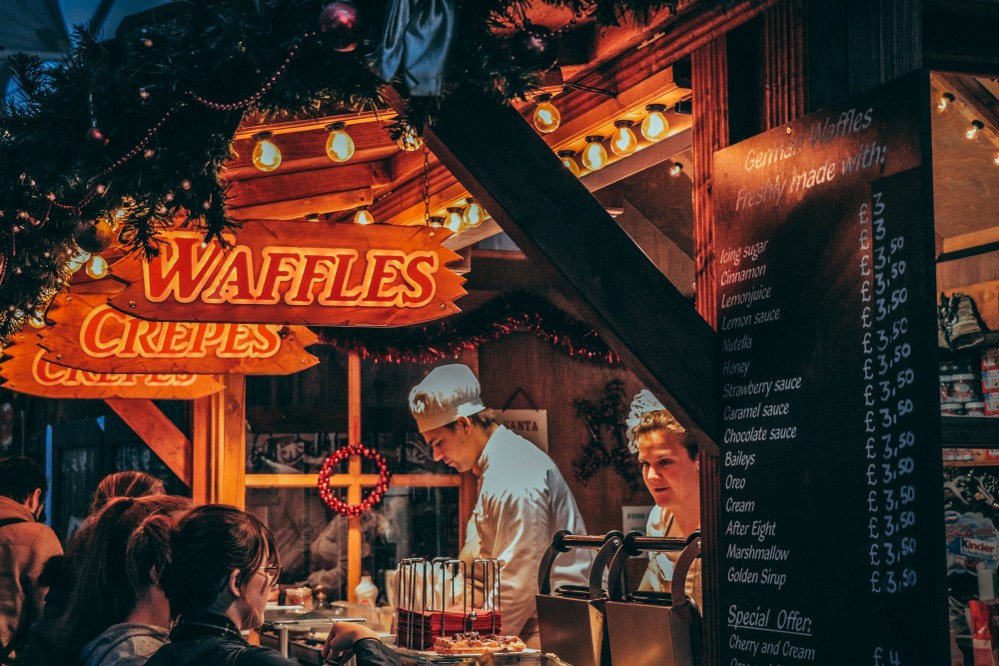 It's a very sociable place where group of friends gather to eat, drink and be merry. Live music from Germany and Birmingham contributes to the jolly atmosphere. The market opens as early as beginning of November, so it's an easy one to fit into your schedule. There are coach trips from Birmingham to Luton as well as London if you need to get back to the capital after visiting.
2. Finest craftsmanship at Cardiff
How lovely it would be to support local and independent crafts this season of giving. That's the spirit that's alive and kicking in Cardiff. The Christmas market here has been around for close to 30 years now. With over 200 stalls, it brings delight and joy to young and old. Stalls change throughout the month of December, so it's worth visiting more than once! Handmade soaps, beautiful glass trinkets, wood turned bowels, bespoke jewellery, original artwork, hand thrown pottery, handcrafted quilts and textiles, and traditional pewter gifts – the choice is amazing. Naturally, there is plenty of seasonal food and drink to create a vibrant Christmas atmosphere.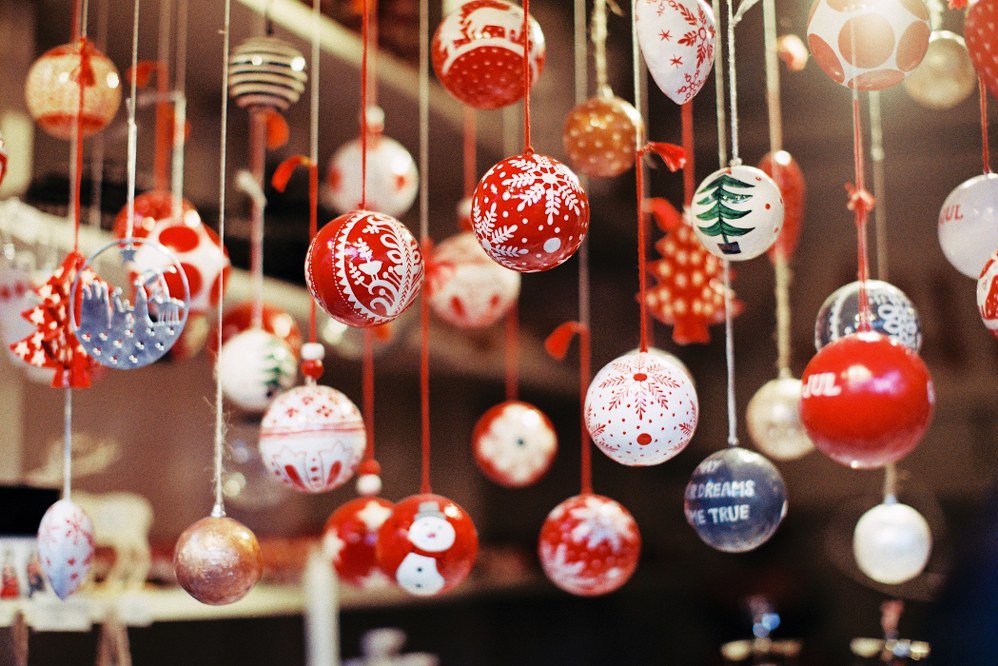 The Cardiff Christmas market opens as early as middle of November and usual runs until 23 December. If you are not local, the market stalls are in the main pedestrianised shopping area: in St. John Street, Working Street, Trinity Street, and the Hayes. Cardiff Central Station is only 5 minutes away, and there are plenty of NCP car parks if you prefer driving. The city also has plenty of accommodation for all budgets, from hostels to luxury hotels if you fancy an overnight stay.
3. Winter Wonderland in London
Of course, London's most fabulous Christmas market had make the list! London never fails to amuse both locals and tourist with its grand Winter Wonderland event in Hyde Park. Everything here is on a huge scale, whether it's the food and drink stalls, the fairground rides, or the circus shows. The Magical Ice Kingdom, a mythical ice palace, is made from 500 tonnes of beautifully sculptured ice and snow, an experience in itself. There really is something for kids of all ages, from the Teletubbies show to scary rides for the teens. Families will enjoy the Zippo's Circus show and The Snowman cinema experience as well as UK's largest outdoor ice rink. In the evenings, the younger folk turn up in groups, frequenting the bars and stalls. A cool place (pun intended) is Bar Ice, serving cocktails amongst other fancy drinks. Naturally, like anywhere in London, you can get just about any type of food or drink here at Winter Wonderland, including award-winning 3-course meals in pop up tents!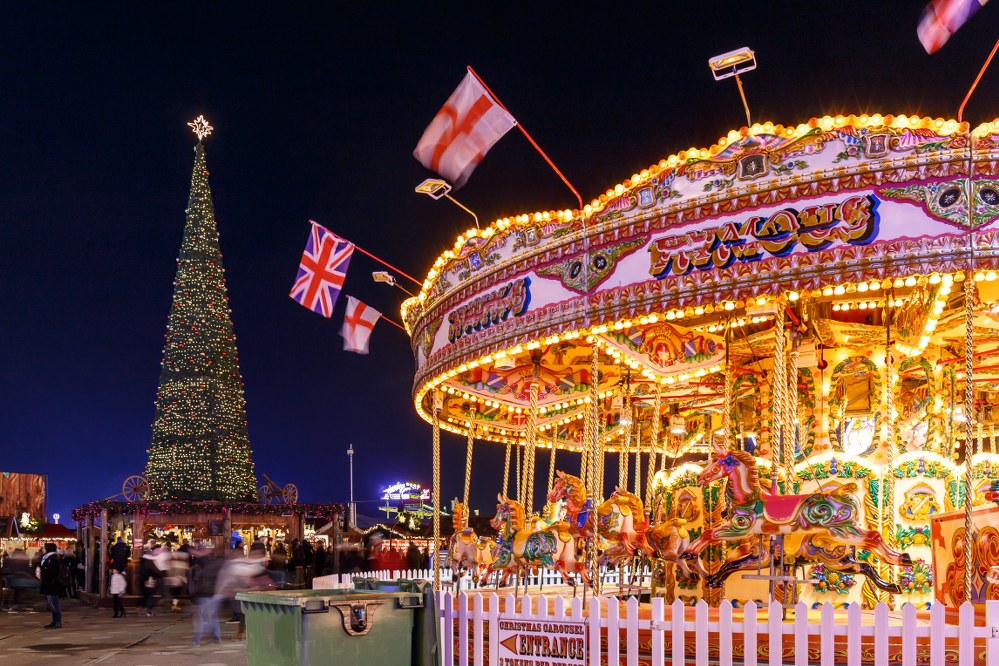 The mega-sized Christmas market opens to the public around the 19th of November running all the way to the beginning of January. Make sure you pre-book during COVID times. There is an entrance fee, both for the Christmas market and any additional rides, shows, and activities. Nothing is cheap here, but that won't be a surprise to you if you are a Londoner. If you are looking for a little extravagance, London's Winter Wonderland is the place for you. The market is open from the end of November to the beginning of January. Parking is notoriously difficult in this part of London, but there is a Q-Park if you don't mind the eye-watering rates. Arriving by train and/or tube is probably the more sensible mode of transport if you want to visit.
4. Festive dishes at Winchester Cathedral
Winchester Cathedral's Christmas Market just had to be on our list of best Christmas markets in the UK! The historic market town puts on a vibrant fair, which attracts more than 350,000 visitors a year. Its wooden chalets sell authentic seasonal international treats, including stollen, German sausages, raclette, mince pies, mulled wine, and other tipples if you want to get merry. Crafts people sell their unique art here, from paintings and textiles to beautiful Christmas decorations. It's a great place to shop for Christmas gifts without breaking the bank. Don't miss the enchanting nativity scene at the far end of the crafts stalls. If you are feeling the chill, you can warm up in the Cathedral Refectory's café and enjoy a heart-warming meal. To give you an idea of size – Winchester's Xmas fair has over 100 stalls!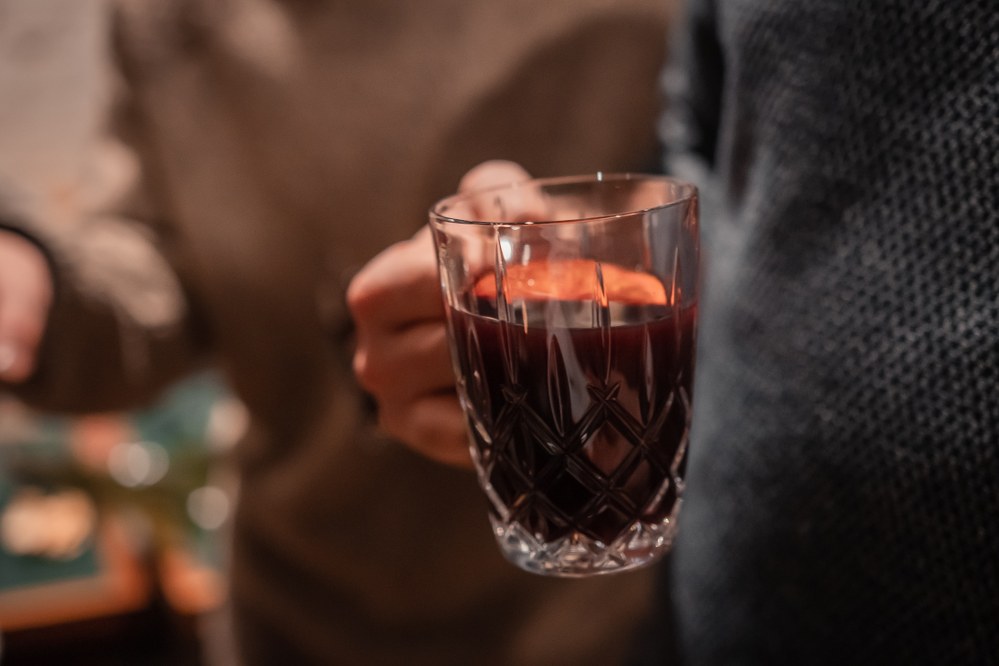 Just like Winter Wonderland, this Christmas market opens on or around the 19th of November, usually running until 22 December. Due to COVID measures, the popular ice rink has been replaced by a stage featuring musicians in 2021, but we are hoping it will make a return in 2022. The most convenient way to get to Winchester is by train. The railway station is only a 10 minute walk from the Christmas market. Driving is not recommended as the town centre tends to be congested with few parking options at this time of year.
Final words
Whether you live here or are coming to the UK for the holidays, visiting one of the UK's best Christmas markets during the festive period is a truly magical experience for parents and kids of all ages. Whether you need a unique Christmas gift, want to indulge in sweet German cakes, or just soak up the festive atmosphere, there is plenty to admire and enjoy for both adults and children.
Happy Holidays!
About Single Parents on Holiday:
We are the UK's leading tour operator for single parent group holidays in the UK and abroad. And since many of our single parents now have grown up children, we  also organise singles ski holidays for those single parent empty nesters and anyone else who lacks company on the slopes. Whether you book a ski trip or another solo or single parent holiday, you will find, that you will meet a fun, and sociable bunch of people, who enjoy company on and off the slopes!