You just have to fall in love with the Bavarian Forest! More remote and less celebrated than the Black Forest, the Bavarian Forest is located in south-eastern Germany where the Danube forms the border with the Czech Republic and Austria. The Bavarian Forest runs continuously across the border and into the Bohemian Forest on the Czech side. The Bavarian Forest is an area of unspoiled beauty, much of it untouched by human development.
The Bavarian Forest is an inspiring landscape of rolling hills and rounded tree-covered peaks, untouched valleys and  virgin woodland. It is a habitat for an endless list of species long since vanished from the rest of Central Europe. The region is home to deer, wild boar, fox, otter and countless bird species. The harsh continental climate and long, snowy winters provide perfect conditions for eagle owls, Ural owls, ravens, otters, wood grouse, hazel grouse and three-toed woodpeckers. The thick forest, most of it mountain spruce, offers hundreds of kilometres of marked hiking, cycling and cross-country skiing trails.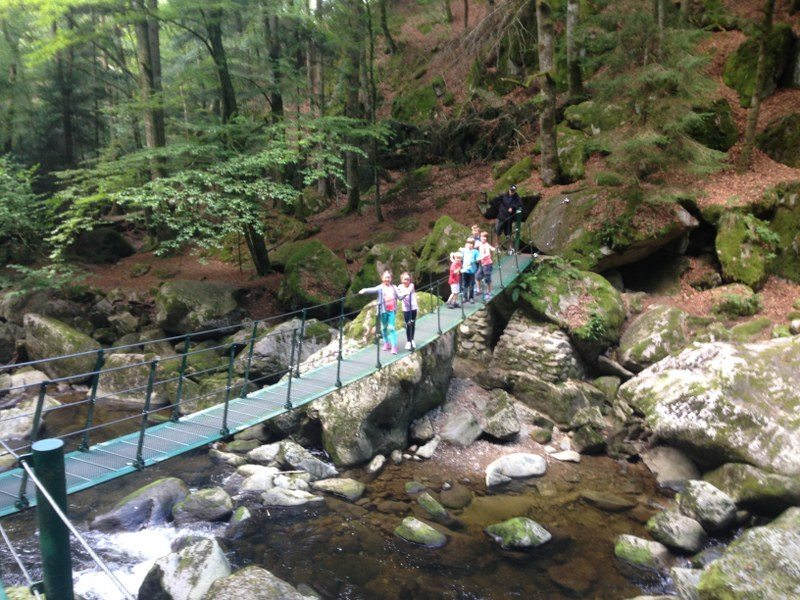 The Bavarian Forest is also home to ruined castles, beautiful churches and offers a seemingly endless list of summer festivals. The philosophy of the Bavarian Forest National Park, which was Germany's first and makes up a vast unspoiled chunk of the region, is to let nature do very its own thing, giving it free and unrestricted reign.
Because it's such an insider tip, the region has seen few international tourists over the decades, and remains traditional. Part of the reason we love it! Traditional German Tracht is widely worn, and the cuisine is deliciously hearty Bavarian dishes.
The Bavarian Forest is home to more than 300 km of clearly marked footpaths, 200 km of cycle routes and 80 km of cross-country ski trails, offering visitors the opportunity to appreciate the beauty of the region all year round. Whether on foot or on bike, there's a huge amount to discover on a journey through the unspoiled highland region. 95 per cent of which is covered by forest. From moorland and crystal-clear mountain streams to Lake Rachelsee, the national park's only glacial lake, other attractions include themed trails and the ancient woodlands of Rachel-Falkenstein. The high point of the Bavarian Forest is the national park's treetop walk, a raised wooden pathway that stretches through the forest for just under a mile, keeping the crowns of immense fir, pine, birch and beech trees at eye level, and offering wide-angle perspectives of the ragged Czech mountains in the background.
All this adds up to it being the largest area of wilderness between the Atlantic and the Urals. The Bavarian Forest is a breath of fresh air compared to the more touristy parts of Germany, let alone the Med.
We at Single Parents on Holiday love the Bavarian Forest and the beautiful countryside of neighbouring Austria.