Discover Mykonos for a sophisticated holiday experience.
Planning a holiday with children can be stressful for any parent, but for the single mums and dads amongst us, holidays can prove much more of a headache. There is the question of where to go, what type of accommodation to book and how to entertain the kids on your own when you travel solo. Browsing brochures of perfect couples with pretty kids doesn't exactly help with the decision-making.
Start with finding a holiday destination that has something to do for every family member. If you are tired of pools and theme parks that offer everything your kids would love but provide little enjoyment for you, then your frustration will be apparent and neither you nor your children will have a great experience. To make your decision a little easier, we are introducing a selection of fantastic holiday destinations you may not have thought about visiting for one of your single parent holidays. In this post, we are introducing the family friendly and sophisticated Greek island of Mykonos.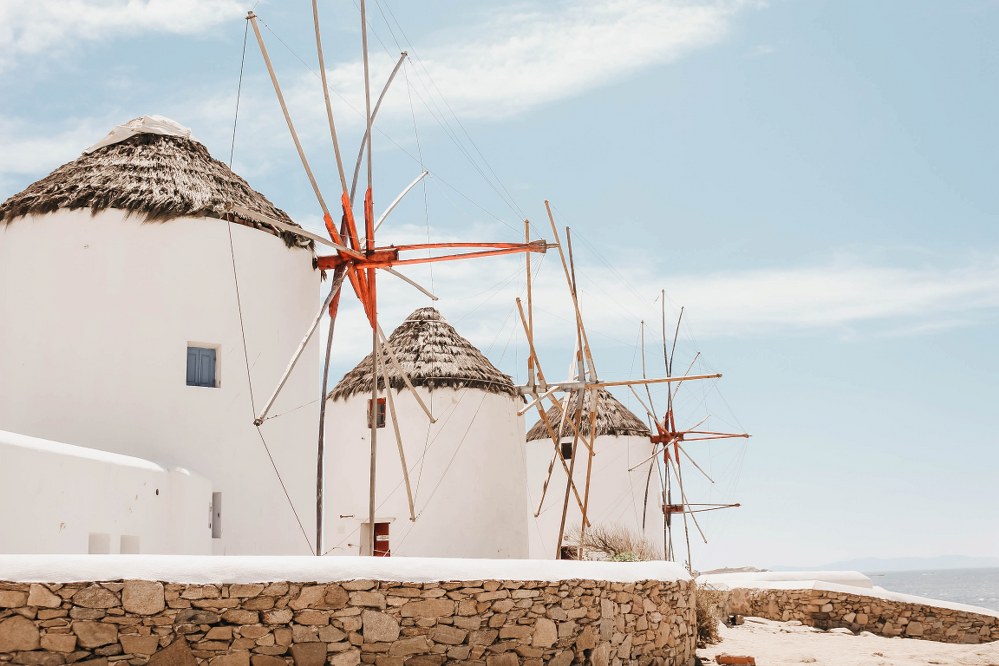 Family friendly Mykonos
Mykonos is a fantastic location for a family holiday. Aside from its party-hard reputation, the Greek island is famous for its chic lifestyle, amazing beaches, picturesque villages, beautiful scenery and delicious Greek food. It might be popular with celebrities and young singles, but families are very much welcome here and kids are adored and fussed over wherever you go.
Where to stay with kids
There is a huge range of accommodation on Mykonos island – from apartments to luxury boutique hotels to chic 5-star resorts. The choice is yours but if you want to ensure your single parent holiday is a success, you need to pick a location that will be relaxing, fun and safe for the whole family. That means staying away from Mykonos town to avoid the party scene and any sleepless nights as a result of the nightly noise from party goers.
Beware, that Mykonos is the most expensive of the Greek islands and high prices don't don't guarantee luxury here, so do your research and check the exact location and any reviews from other families if you are booking a cottage or small hotel.
If you and your children are looking for luxury, the 5-star Adorno Suites Mykonos Beach Hotel is the perfect choice. Located on one of the best family friendly beaches, the resort is a safe haven for single parent families with security staff on the grounds, its own private beach, and attentive, highly-trained personnel. Accommodation is in spacious suites giving you and your kids plenty of room and privacy. For that extra touch of luxury, you could reserve a room with its own private pool.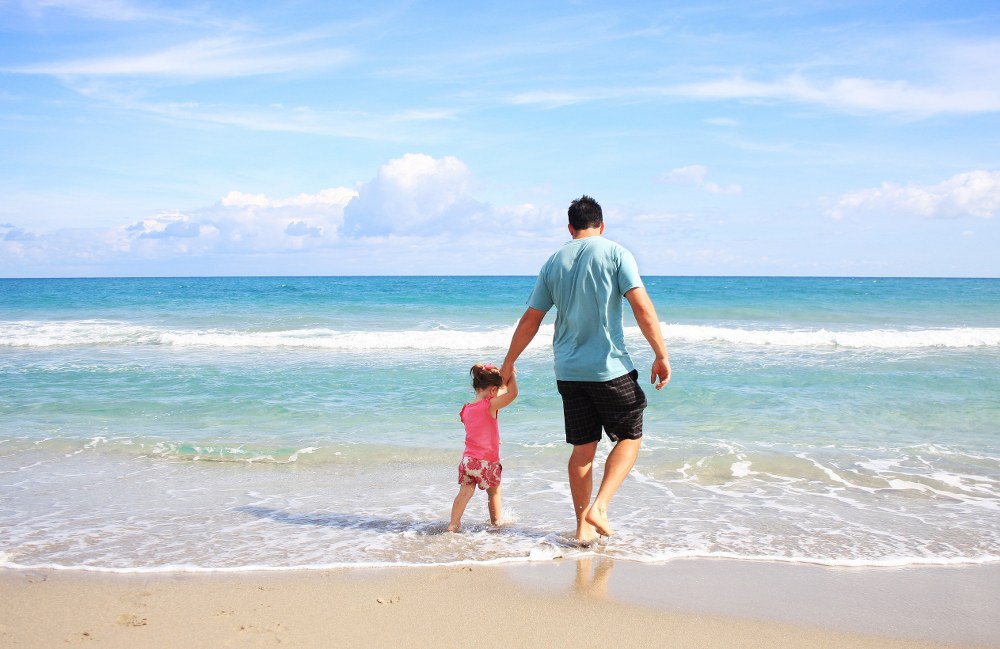 What to do with kids
When you travel as a single parent, it is even more important to ensure the little ones are entertained. There is no shortage of things to do on Mykonos with so many attractions that both parents and children will enjoy.
Beaches and water sports on Mykonos
Mykonos has lots of great beaches – it's beach paradise! Whether you want to swim or sunbathe or try out water sports, you will find everything on the island. The most kid friendly beaches are San Stefanos, Platis Gialos and Ornos Beach. You will find cafés, a playground and water sports on Mykonos' beaches seven days a week, from morning to evening, including jet skiing, kayaking, snorkelling and scuba diving. You can also rent a sailing boat or yacht and go fishing together or go on a boat trip around the Mediterranean to other islands. If you travel during the hottest months of the year, June, July or August, it can get very hot, even with the onshore breeze, so pack plenty of sunscreen and sun hats.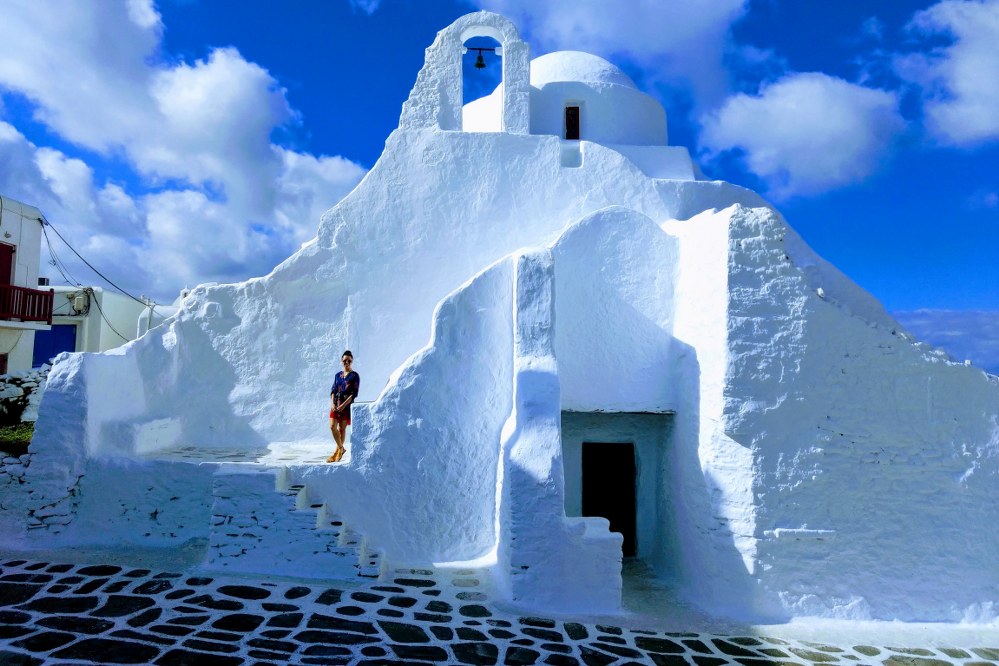 The history of the island
As you and the kids explore the island, you will learn much about the history of Greece. There are several ancient ruins on Mykonos as well as the surrounding islands, such as the archaeological site on Delos island. If your kids love Greek Mythology, it's worth taking the ferry to Delos, which the Greek believed to be the birthplace of Apollo, the God of Light and the Goddess Artemis. Book a guided tour to learn more about the fascinating history of ancient Greece and how its society so greatly influenced western culture.
Exploring Mykonos on foot or by bike
Finally, let's not forget how much there is to discover by simply walking or cycling through the ancient towns of the island. Since Mykonos town, or Chora as it is also known, banned motorised vehicles, walking or cycling is a must here. But it is well worth it as the town is beautiful and an attraction in its own right, with its maze of cobbled streets, lined with whitewashed buildings with blue painted doors to complete the authentic look of a traditional Cycladic town.
There are countless bike rental shops dotted along the west coast of Mykonos, but you will also find them in the less touristy areas of the island. Whether you are exploring on foot or on wheels, the sight of ancient whitewashed churches, shops and museums in a landscape of rolling hills and century old windmills dotted along the coastline is a truly charming sight for parents and kids alike.
Discover the local cuisine
Don't forget to stop for some Greek pastry and tasty Greek dishes at one of the amazing restaurants and food stalls that are located all over the island. Discovering different places and eateries with your kids will provide endless entertainment and a great opportunity to make memories and bond on your single parent trip. If you have fallen in love with the island's windmills and whitewashed cottages, eating out at Sea Satin Market, a seafood restaurant perched on the waterfront of Little Venice, the most famous part of Mykonos town, will be the ultimate experience.
Mykonos is a great destination for a single parent holiday with its warm friendly attitude towards families, beaches aplenty and beautiful scenery. And for families, who want to get out and about the Greek island offers plenty of activities, charming history and a local cuisine that appeals to both parents and children.
About Single Parents on Holiday:
To find out more about us, go to Single Parents on Holiday's website. 
Here are a few other blog posts that you might enjoy:
Last but not least, if don't want to miss future posts, please subscribe to our travel blog for single parents (SUBSCRIBE BUTTON ON THE RIGHT)!