Are you ready to embark on an unforgettable desert tour in Morocco?
Have you long dreamt of going on a great desert tour ? Why not start out somewhere as fabulously mysterious as Morocco and embark on an unforgettable desert trip from Marrakech ? We will give you the lowdown on what to expect on a desert tour in Morocco to ensure you make the most of your trip to the majestic Sahara Desert.
The beautiful ancient country of Morocco in North Africa borders two great bodies of water, the Mediterranean Sea and the Atlantic Ocean making it easily accessible by many means of transport. You could start your journey through Morocco from its capital, the historic city of Rabat, located in the North of the country along the shores of the Bouregreg River and the Atlantic Ocean. From there, you can easily continue your journey to other fascinating places, either further inland to Fez, Morocco's unofficial cultural capital, or to vibrant Marrakech. Don't miss Casablanca, which is practically en route to Marrakesh and best-known for the famous Humphrey Bogart and Ingrid Bergman film. The 1942 film of the same name practically helped put Morocco on the map for moviegoers – and many decades later, people are still visiting Casablanca in droves. If you find that flights are cheaper to Marrakech, why not book your desert tour directly from Marrakech? The more time you allow for your desert tour, the better, especially if you want to see both the Merzouga dunes and the Zagora desert in the southeast of Morocco. The journey itself past the Draa Valley, the fortified Kasbahs and the Atlas Mountains are so scenic, it is an unforgettable experience in itself.
To help you make the most of your desert trip, we have compiled a list of some of the wonderful things you can experience and that will make your visit truly unforgettable:
Stargazing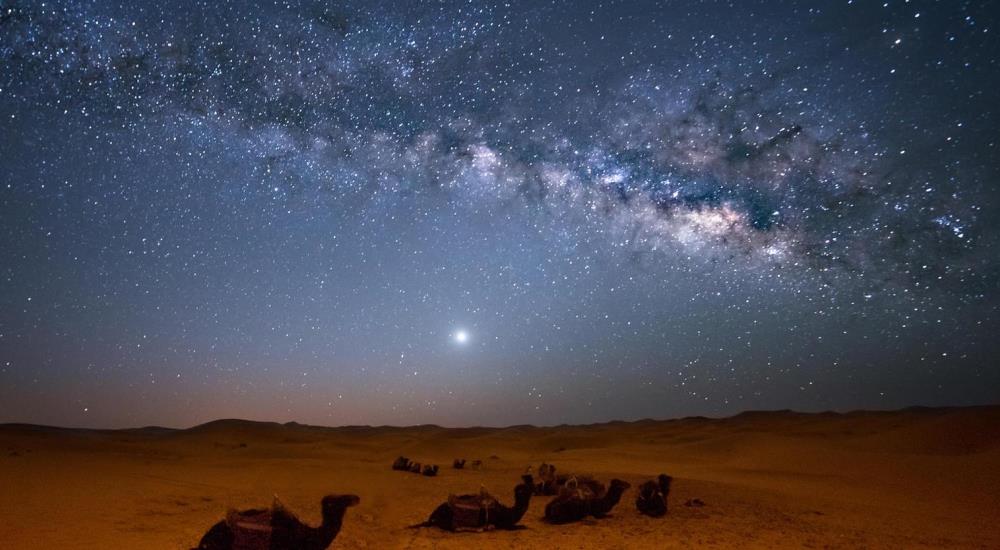 A real desert tour will not be complete without a stargazing experience. This vast open space of the Sahara Desert offers unobstructed views and will bring out the astronomer in you! Make sure to bring a portable telescope so you can gaze at the stars and planets at any time you wish. Stargazing experiences are offered on day tours from Fez and desert tours from Marrakech. If you choose the latter, expert guides will take you to a friendly desert camp, where you can star gaze to your heart's delight.
Sand surfing
The Merzouga Desert with its endless sand dunes of varying sizes is the perfect place to try your hand at sand surfing. So why not try this up and coming sport on your desert tour in Morocco? It is also known as sandboarding because you ride a surf-like board across the dunes of the desert. And it looks much like a snowboard so if you have experience in the snow (or the water), this new skill might come easily to you. And best of all, you won't get wet or cold should you fall!
Watch the sunset and sunrise
Not only nature lovers will marvel at the magnificent sunrise in the Sahara Desert. You will get the best views from a camp or hotel near the Middle Atlas Mountains. Not an early riser? That's ok because the sunsets are just as imposing and can be admired from anywhere in the desert to the mountain areas and will make your desert trip truly unforgettable.
Quad bike
Sand surfing not your thing? Don't worry! There are many other fun things to do in the desert. You could ride down the dunes in a motorised vehicle instead. Many companies offer special package tours that include quad biking which is a perfect way to ride across the vast sand dunes, discover places off the beaten track and immerse yourself in the culture. This method of transport will enable you to meet the local people, explore Morocco's beautiful nature, and make this a trip of a lifetime!
Camel ride
One of the most stereotypical things we associate with traversing the desert is camels. So what better way to experience a desert tour in Morocco than from the back of a camel ! You will find no shortage of companies in Morocco with experienced tour guides that speak English, Spanish or French and, of course, Arabic. Now the questions is, do you speak camel-ese? Best let your tour guide deal with this so you just lean back and enjoy the (camel) ride !
Meet the locals
When you embark on a desert tour from Marrakech, you will also be able to meet many friendly and curious locals who still live in accordance with ancient customs and traditions. The Berber villages, in particular, are truly authentic places, completely untouched by tourism. The Berbers are famous for their hospitality and you will be able to learn a thing or two about their local culture and traditions. So if you are looking for an authentic encounter with the locals, we highly recommend a tour that takes you through the Berber villages, and the Valley of a Thousand Kasbahs in Dades Valley.
Sit around the campfire
Whether you opt to stay at a desert camp away from it all or in the luxury of a desert tour hotel as part of your desert tour of Morocco, hanging around the campfire will be one of the most enjoyable parts of your trip. You will get a chance to meet new people, listen to locals telling their ancient stories and sample their fine culinary treats. Story telling is an important part of Moroccan culture and dates back over 1000 years. If either you or your children are musical this would be a magical moment to unpack a travel guitar.
Sleep under the stars
For the more adventurous amongst you, sitting around a campfire chilling with the locals and stargazing in the valleys might not sound exhilarating enough. (Don't forget your sleeping bag!) If you are seeking more, you should try sleeping under the stars ! Yep, you can spend the night in a nomad tent in the desert, and gaze at the stars while you try to fall asleep. Sounds like a fun adventure? It is! There are so many different types of desert tours available from Marrakech, but this trip would be truly unforgettable, truly remarkable, and truly one of a kind. This one will earn you "travel bragging rights" !
Now all you need to decide is, which kind of adventure to choose when you embark on your desert tour in Morocco. Just remember the age-old saying: Leave nothing but footprints, and take nothing but memories – especially great Moroccan ones!
*This post was written in collaboration with Marrakech Desert Tours.
About Single Parents on Holiday: 
Single Parents on Holiday are the no. 1 tour operator for group holidays for single parents. We also organise single parent ski holidays and singles ski holidays.  Go to our website to find out more or subscribe to our newsletter.
If you are interested in holidays in Morocco, check out our single parent holiday in Marrakesh.