All you need to know about glacier skiing and Austria's Hintertux Glacier.
When ski resorts in Austria started shutting one by one back in March 2020, none of us had any idea we weren't going to get back on the slopes for another two years. In fact, most of us thought this pandemic would be all over by the summer – at the latest!
The UK summer of 2020 wasn't too bad really, so we could manage without seeing much of the beach, but the one thing the team at Single Parents on Holiday really missed since the pandemic began was the super addictive thrill of gliding on snow. Nothing compares to feeling the sun on your skin as you take the chair lift up first thing in the morning and gaze at the winter wonderland around you, before skiing or boarding down freshly groomed slopes with a little powder thrown in the mix!
So what do you do, when your ski gear is gathering dust for a second season in a row? And how can you plan a ski trip amongst COVID restrictions? We thought, well, why not hit the slopes for some glacier skiing in the October half term?  And this is exactly what we are doing now, so without further ado, here is everything you need to know about glacier skiing in Austria:
What is glacier skiing?
Don't be mistaken and think that glacier skiing is all about 'skiing on ice' and only for expert skiers. Glaciers offer soft powder snow, calm weather and beautiful pistes – all year-round. They are just as perfect for beginner skiers of all ages as they are for those looking to work on polishing new skills, or the families with kids who need to be kept amused. The best part about glacier skiing is that you can go on a ski break outside the main ski season between May and November. So, rather than having to wait an entire year, you can have a sneaky ski break in the autumn when you get fresh snow and sunny slopes – which is exactly what we were looking for!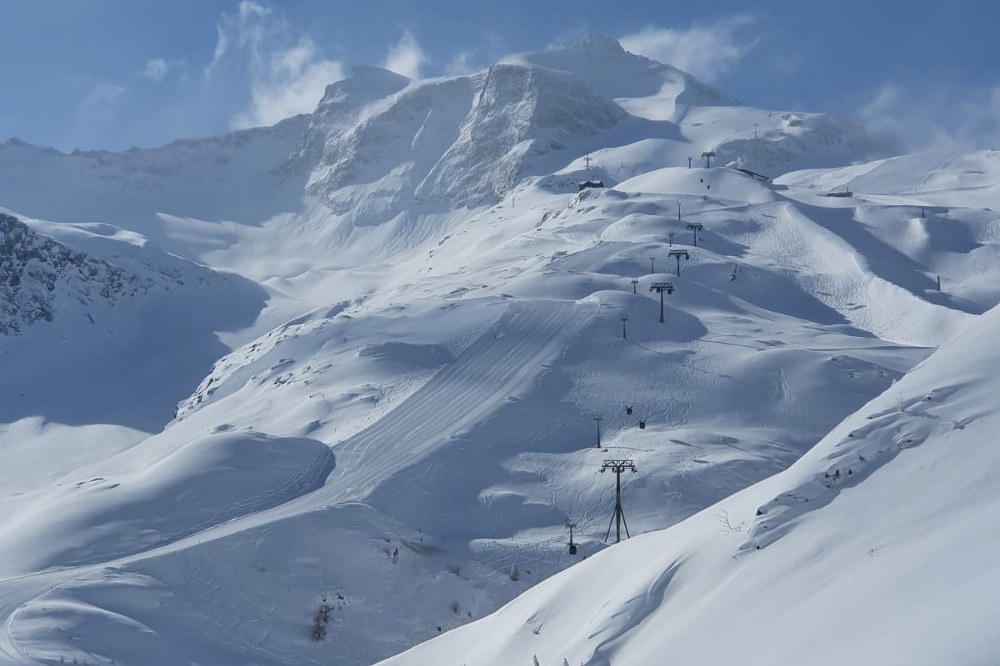 Can you ski all year round?
Not all glaciers offer year-round skiing, some are shut during the hotter summer months, so do check the best time to go for each glacier. The only ski resort in Austria, where you can ski all year round, and arguably the best all-round glacier resort we've found in Europe, is the Hintertux glacier.
Hintertux glacier: skiing for all levels
Hintertux offers the steepest glacier skiing in the Alps – supplemented in winter by a sprawling network of pistes snaking through the unglaciated terrain lower down. It's a great place to sharpen your technique if you've been on some of our single parent or singles ski holidays and are a seasoned skier. The high altitude – up to 3,250 m – means you can escape all but the sharpest thaws at any time of year. The pistes at the very top are the best – wide, grippy and almost always quieter than the runs lower down. On a windless sunny day, they're a lovely place to set your edges to groomed snow. Some of the slopes on the glacier are fairly steep, but there are some easy ones too…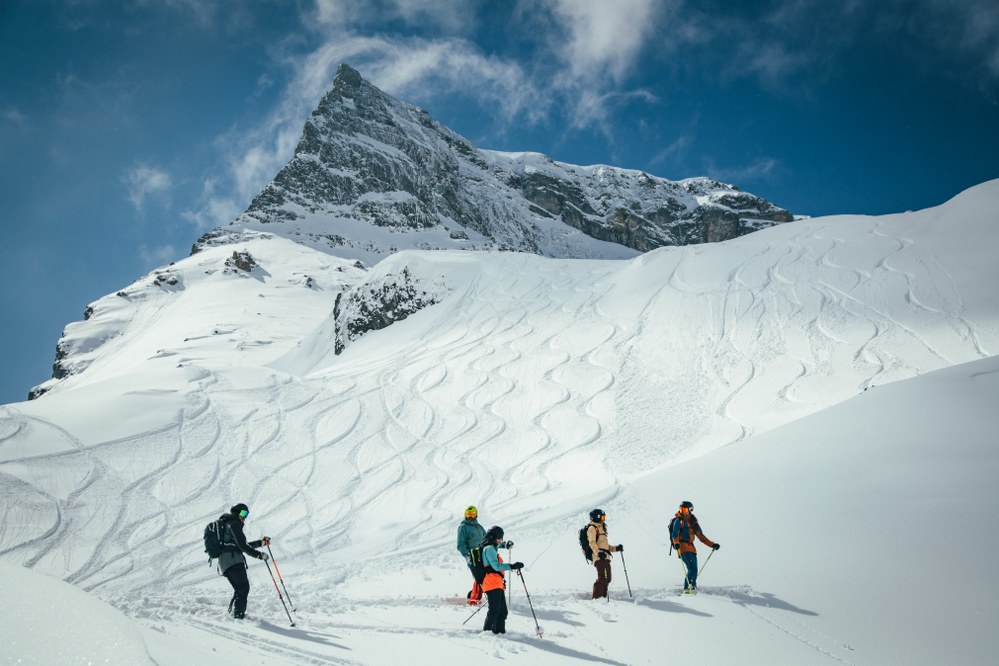 In fact, lower down, many of the runs are more meandering – perfect for our single parent families and beginners. For those attempting their first turns, Sommerbergalm has a practice area by the mountain station and Hintertux has a tow rope lift by the base station.
It all adds up to 60 kilometres of red, blue, and black pistes – more than enough to satisfy us for a great week's skiing. Just don't be surprised, or dismayed, if you find yourself being overtaken by members of the Austrian downhill team! That's where they train in the warmer months, and we won't even try to compete with them..
A glacier not just for skiing
The Hintertux glacier offers a far more interesting package than 'just' great year-round skiing and ski celeb selfies, however. We love the Ice Palace! This wonderful world below the ski slopes offers visitors guided tours to marvel at a walk-in crevasse with magical ice stalactites, huge sparkling ice crystals, frozen waterfalls – and even a glacial lake. Sends a shiver down the spine, and not just because it's cold.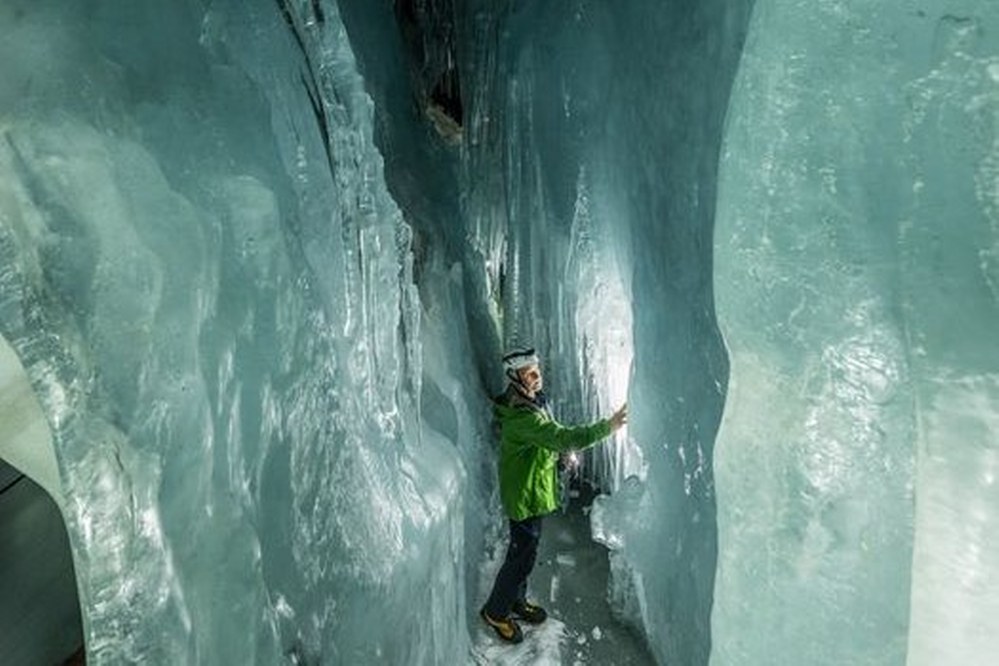 The Spannagel Cave, an eerily beautiful subterranean show cave, is a must-see. A riot of brightly-coloured natural marble walls some 12.5 kilometres in length, Spannagel is the longest cave system in the Central Alps, and a genuine adventure. Guided tours take one hour and take you deep into the mountainside and the labyrinthine caverns, where you can see splendid stalactites and stalagmites, fascinating rock formations, sparkling crystals and much more. If you feel adventurous, you could even take a more challenging 3-hour trekking trip through the caves.
Relax in the sun
The best place to sit back and relax in the sun after a long day of skiing or caving is the Panorama Terrace. Just a couple of minutes' walk from the terminal of glacier bus no. 3 (the glacier buses at Hintertux are an experience in their own right), the Terrace is just amazing. There aren't too many places in the world that offer a wide, open view to the Großglockner, Zugspitze, and Dolomites all at the same time.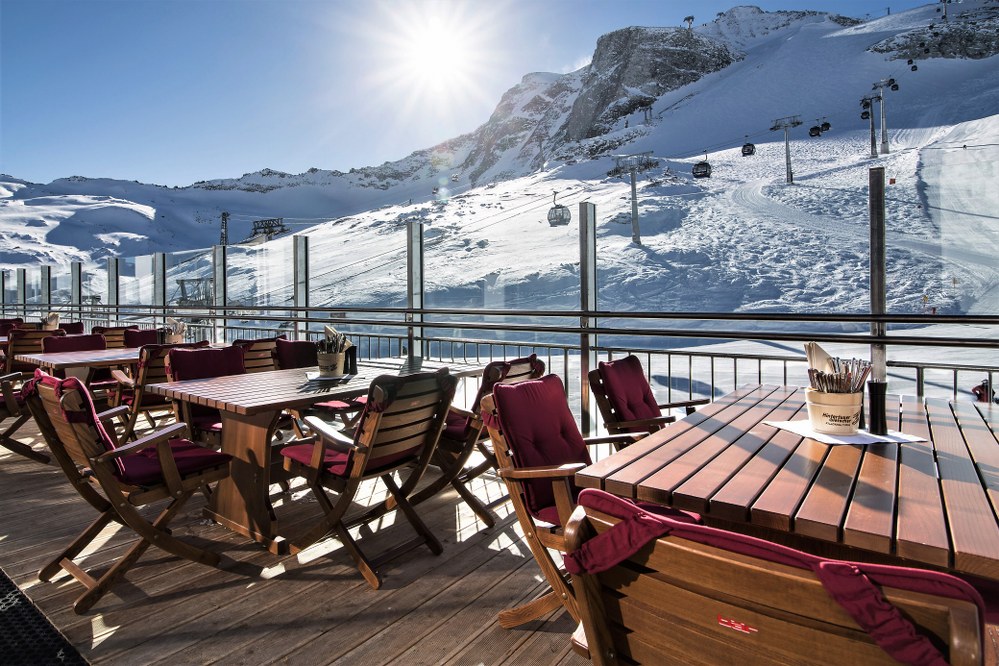 So, if you want something to look forward to, miss your skiing, or want to finally try it for the first time, why not join us on one of our fabulous ski holidays in Hintertux this October? You can choose between a 5-day singles ski trip in Hintertux as well as a 6-day ski holiday with kids in Hintertux for single parent families.