Check out our 7 Favourite Greek Islands for Your Summer Holiday
If you are looking for a single parent holiday in Greece, look no further than the Greek islands: Calm waters, sandy beaches, unspoiled natural beauty and plenty of things to do!
That is why we have created a list of the best 7 Greek islands for a family holiday to help inspire your next summer escape and all those unforgettable family moments.
---
Crete (best Greek islands for a family holiday – 1/7)
Crete's hard to beat when it comes to diversity. This Greek island seems to have it all: crystal-clear waters, splendid beaches, a rich history stretching back a few thousand years, traditional villages and vibrant towns, rolling green hills and unparalleled hospitality.
The majority of Crete's beaches have the EU Blue Flag award for their excellent standard of cleanliness. There are countless beautiful sandy beaches on Crete, take Elafonisi Beach, a protected white beach with a hint of pink, or Bali Beach, named after the beautiful Indonesian island of Bali. Another amazing beach on Crete is Falassarna Beach, which some say is the best beach in Greece, if not Europe.
But there is much more to this Greek island than water and beaches. You can find out more here: fun facts and interesting insights about Crete.
How to get there: You can get almost daily flights from many of the UK's major airports to either Heraklion or Chania. For car hire from Chania airport, check Rental Center Crete.
---
Thassos (best Greek islands for a family holiday – 2/7)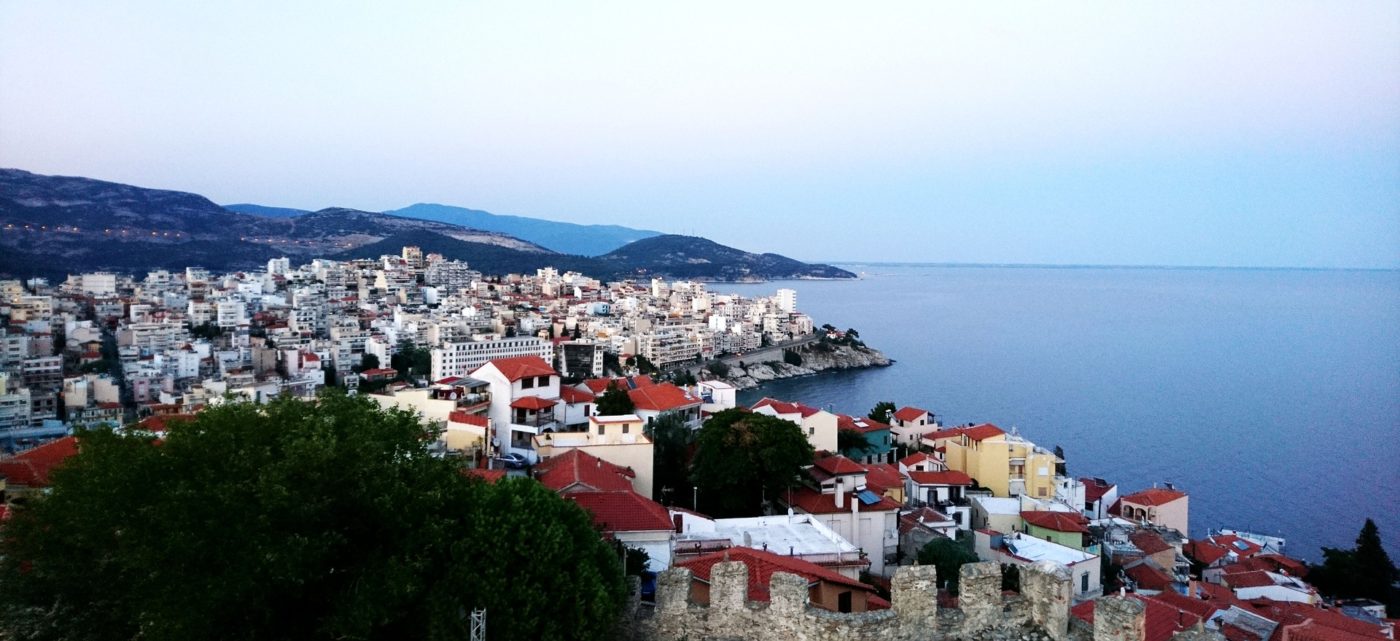 Thassos is one of the most family-friendly destinations in Greece but is often overlooked by tourists. Situated in the Northernmost part of the Aegean Sea, the island's turquoise beaches are surrounded by breathtaking pine forests.
Don't expect to see hordes of partygoers arriving at the port town of Prinos as this island is famous with the locals for its laid-back attitude. Thassos has beaches for every kind of traveller, and most of them are safe for kids. The best one can be found at Skala Rachoni. Its waters are shallow and safe enough for children of all ages, and there are plenty of restaurants around. However, the 1-km long Chryssi Akti beach is also worth investigating as it's been a favourite for Greek and foreign families alike for years.
How to get there: Catch a ferry to the port of Prinos from Kavala or Keramoti (the cheapest option).
---
Cephalonia (best Greek islands for a family holiday – 3/7)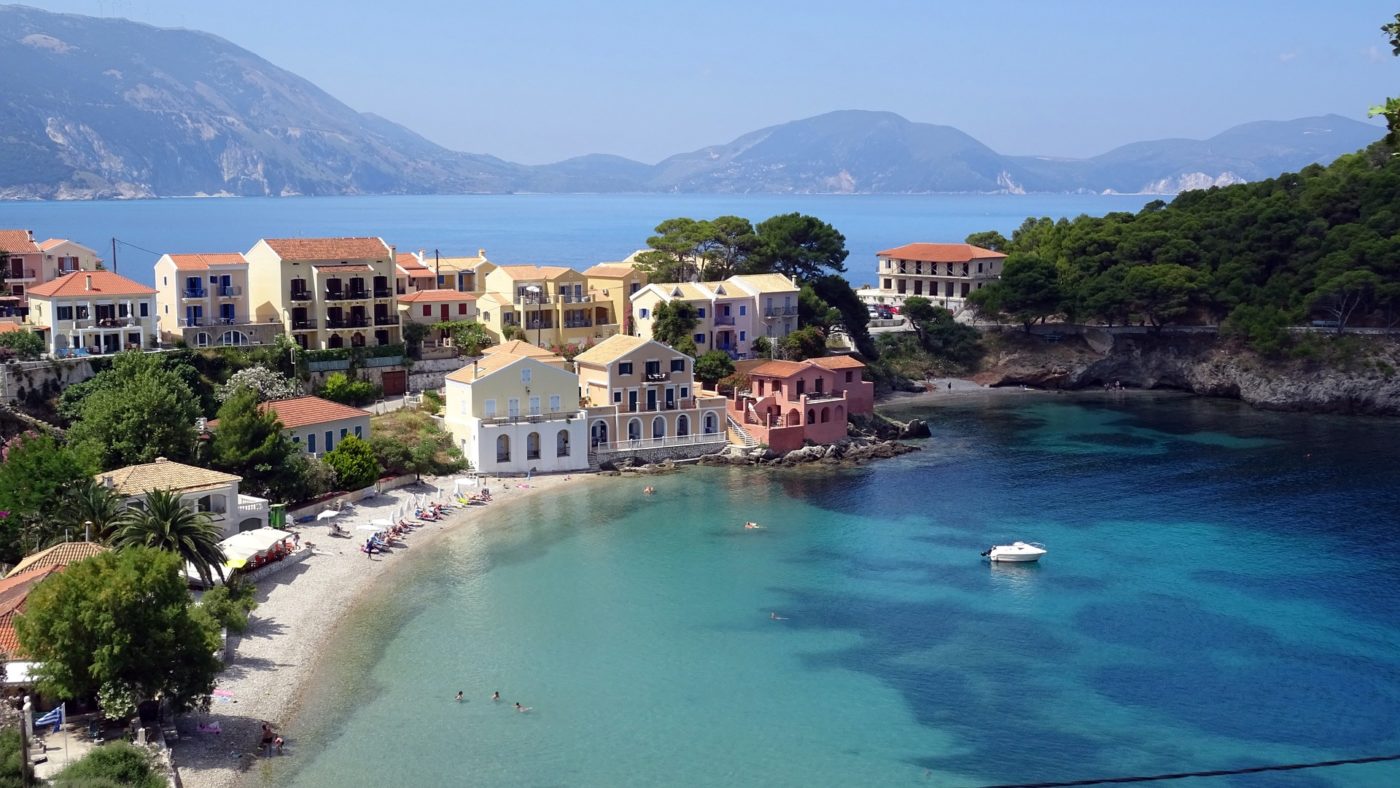 Cephalonia has a reputation as one of the most regally beautiful Greek island and is renowned for its hospitality. Located in the southern part of the Ionian Sea, the island is also world famous for its emerald coastline and imposing landscapes.
Bond with your kids by taking part in one of the many water activities near Skala or explore the cobbled streets of Fiskardo. As for beaches, there are just too many to mention: Makrys Gialos, Myrtos, and Ksi are just some of the prettiest. Also, don't forget to swim in the fascinating Cave of Melissani at Karavomylos, one of the island's most famous landmarks.
How to get there: You can catch a ferry from Kyllini, the westernmost part of the Peloponnese, which is less than 300 km away from Athens. There is also a wide range of flights from many airports across the UK.
---
Rhodes (best Greek islands for a family holiday – 4/7)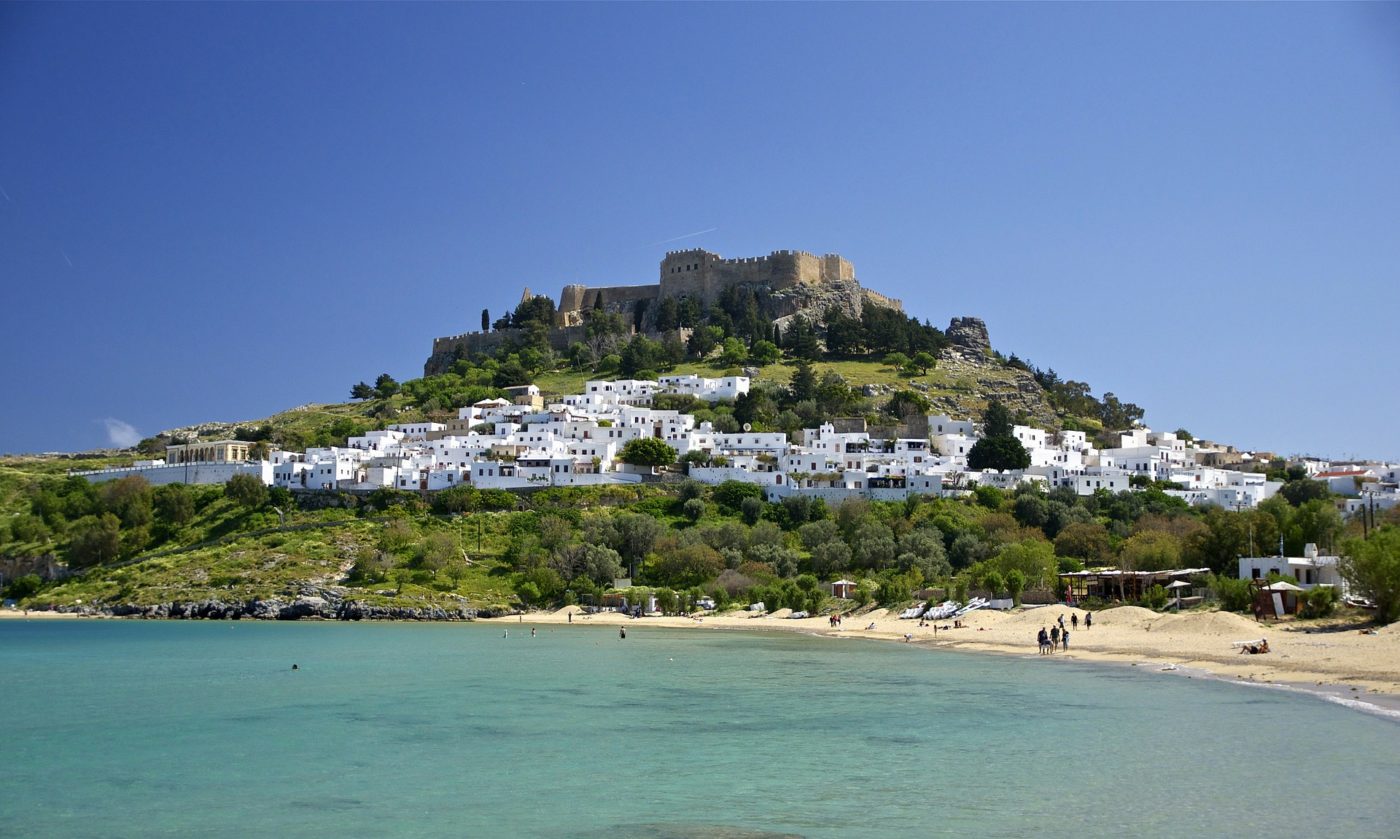 When it comes to family summer holidays, Rhodes would typically be the first island a local would recommend. Most of the island's eastern coast is uninterrupted coastline with shallow, warm waters, full of all-inclusive hotels and fun activities for children. Rhodes is ideal if you want some time for yourself, but there is also no shortage of things to do with your kids.
The medieval town of Rhodes is a UNESCO World Heritage site, and a walk through its narrow alleys will take you on a journey through the times of the Templar Knights. It is quite challenging to recommend kid-friendly beaches in Rhodes since most of the island's Eastern coastline is ideal for children. Vlychia is a local favourite because of its shallow waters. Katsouni, Haraki, and the Anthony Quinn beaches are also very popular with families since they are perfectly safe for younger ones. If you are travelling with tweens or teenagers, then the beaches of Faliraki and Lindos are also perfectly safe choices.
How to get there: The route to Rhodes from the port of Piraeus, with stops on the islands of Patmos, Leros, Kalymnos, and Kos, operates daily. The trip is quite lengthy and will take you about 12 hours. Alternatively, there are direct flights from all over the UK and Ireland, as well as Athens.
---
Naxos (best Greek islands for a family holiday – 5/7)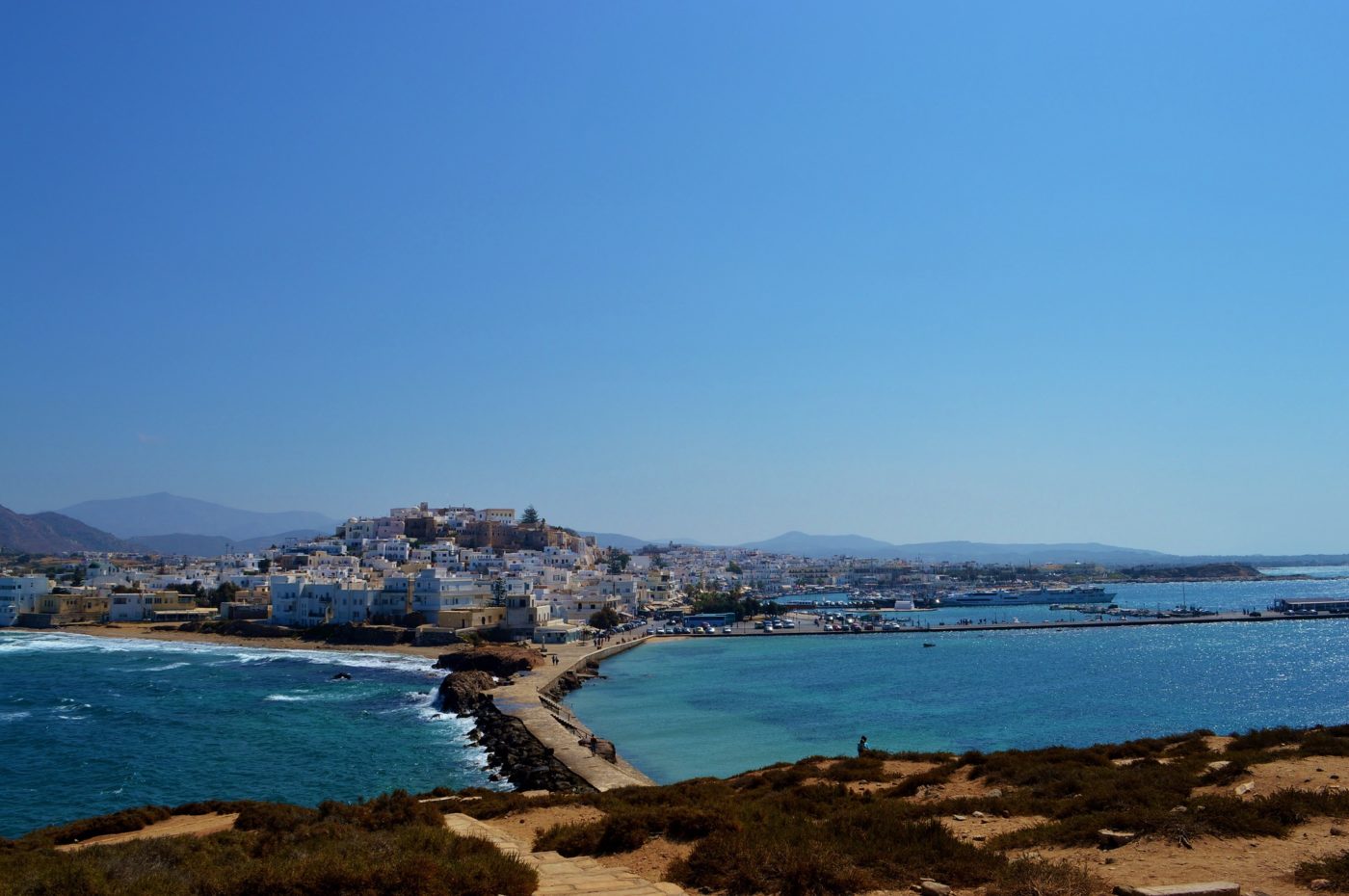 Quiet, spacious and picturesque – Naxos promises everything that is needed for a relaxing single parent holiday: child-friendly sandy beaches, water sports, sightseeing opportunities, cheap eats and lots of colourful villages to visit for an evening walk. Stroll through the paths of Apeiranthos and Filoti and explore the Venetian Castle near the old capital town.
In addition, the mythology surrounding the island is an excellent opportunity for some fantastic children's stories: Did you know that Zeus spent his childhood years in Naxos?
Unsurprisingly, there is a large selection of beaches for you to choose from. Children will love the sandy beach of Agios Georgios and the emerald waters of Agia Anna. Other family-friendly beaches are Agios Prokopios and the more secluded Pyrgaki.
How to get there: There are daily ferry routes to Naxos from the port of Piraeus. The journey takes 3.5 to 5 hours. If you wish to fly, you will have to do a stopover as the airport of Naxos is only connected with Athens airport.
---
Milos (best Greek islands for a family holiday – 6/7)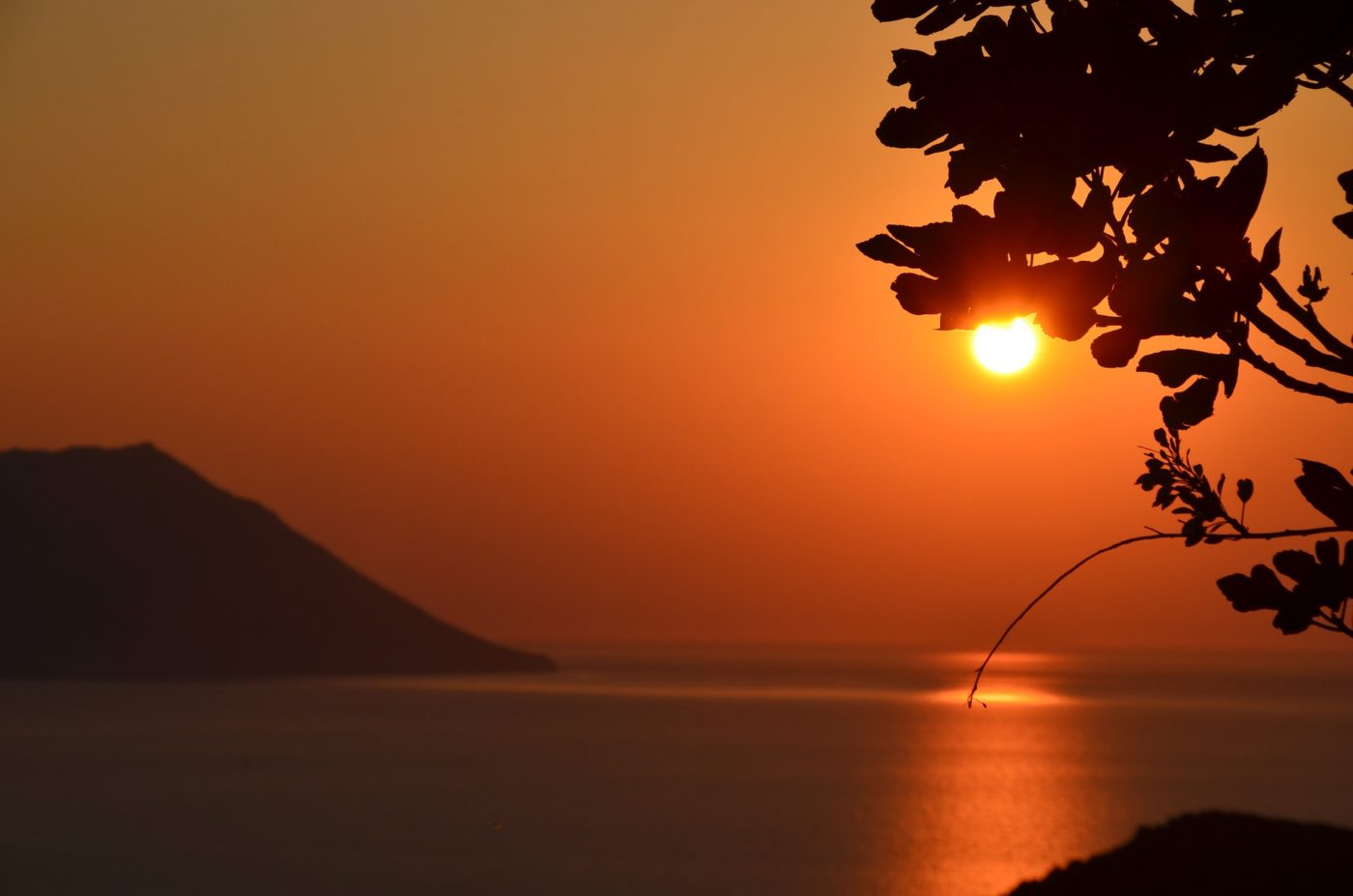 Milos has a long-standing reputation among Greeks as a couple's destination. The dramatic landscapes and azure beaches make it a perfect setting for a romantic getaway. However, there is a lot to do for single-parent families as well.
Besides enjoying the sea, you can organise educational excursions to the Archaeological and Folklore Museums and learn more about the island's adventurous past. For many years, Milos used to be a fearsome pirate haven, making for some stories that kids will love!
The beaches of Papikinou and Provatas are ideal for younger children. If you are travelling with older kids, you can head to the magical Sarakiniko beach or the lunar landscape of Kleftiko. Paliohori is the island's most famous organised beach, with many taverns and bars nearby.
How to get there: There are daily connections to Milos from the port of Piraeus. The journey takes 5 to 7 hours with a regular ferry, while the high-speed vessels will take you there in 3 to 5 hours. In the summer, there are also direct flights to Milos from Athens airport.
---
Alonnisos (best Greek islands for a family holiday – 7/7)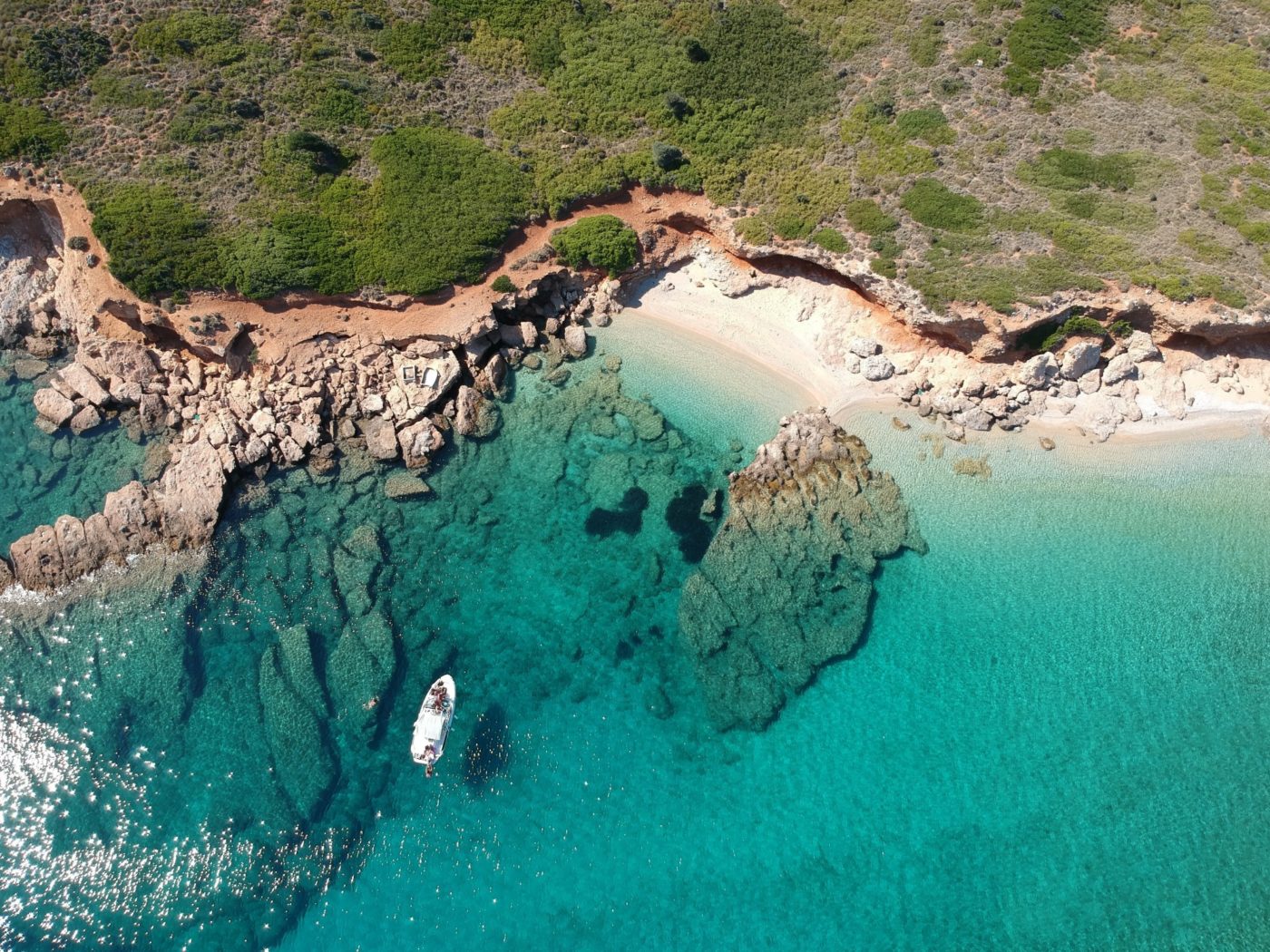 Often overshadowed by its vastly more popular neighbour (Skiathos), Alonnisos is the hidden gem of the Sporades. Tourism is not yet fully developed in Alonnisos, but this is precisely what makes the place magical: Forget 5-star hotels and the comforts of all-inclusive packages. This is a destination for those who love nature, peace, and breathtaking views. The Marine Park of Alonnisos protects a wide range of local sea life, including the Mediterranean monk seal.
If you are traveling with older kids, don't miss the chance to go snorkelling. It's a lifetime experience, and you'll probably get to see seals up close! Alonnisos is a tiny island, and most of the beaches are near to each other. Chryssi Milia is by far the best for small children, as it is extremely shallow. Leftos Gialos, Megalos Mourtias and Agios Dimitrios are also suitable for kids, while Kokkinokastro is quite deep and not recommended for younger children.
How to get there: During the summer months, there are routes from Thessaloniki three times a week. You can also reach the island from the port of Volos, which is much closer.
---
Halkidiki (best Greek islands for a family holiday – bonus)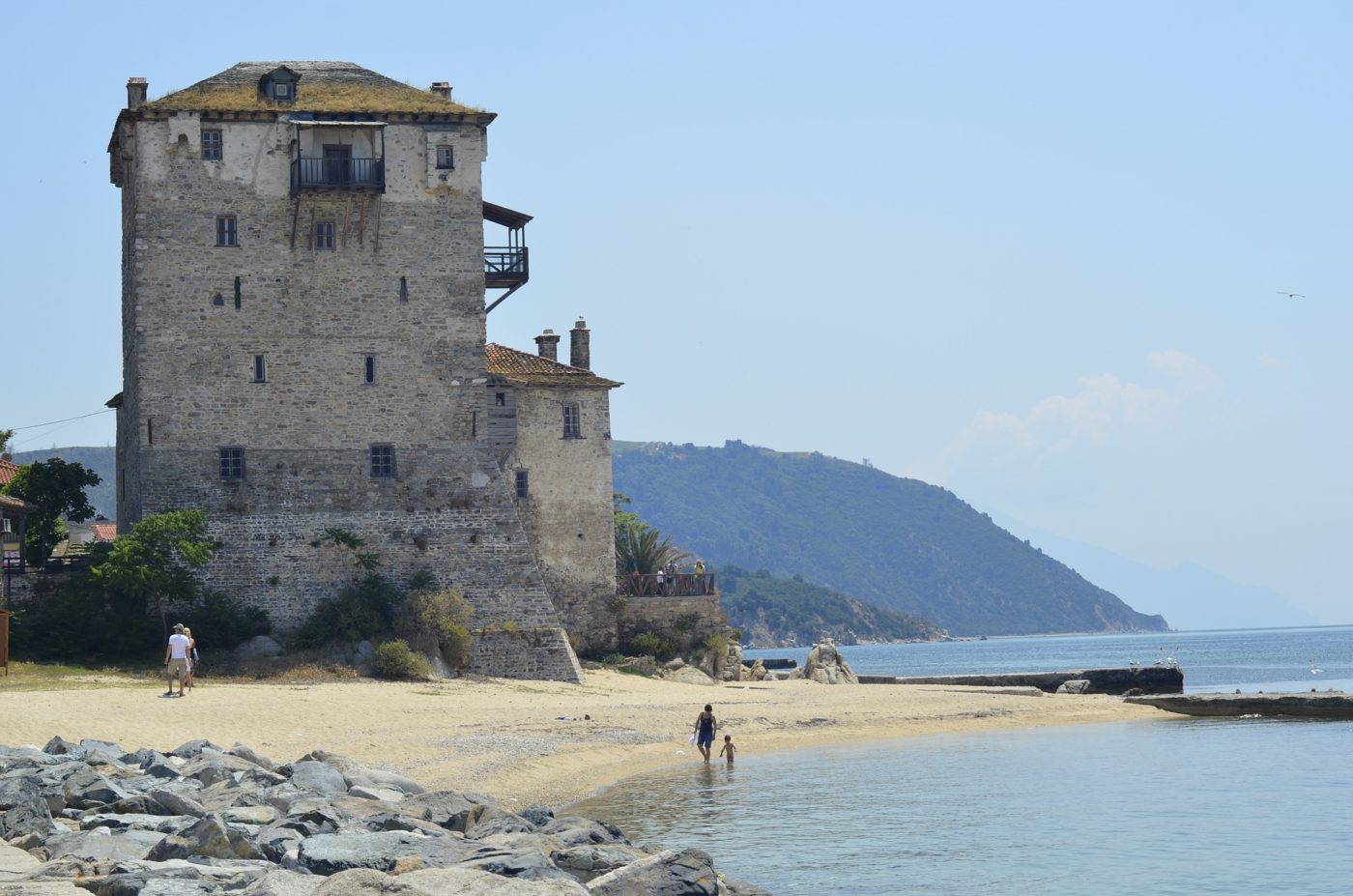 Halkidiki isn't technically an island, but we couldn't help ourselves from adding it to the list as an extra! The region can be easily spotted on the map because of its distinctive geography: three similar-sized peninsulas (resembling "fingers" or "legs") extending all the way to the Aegean Sea. The locals swear by the beauty of the beaches, claiming that some of the most beautiful beaches in Greece can be found here. From the bustling "first leg" of Kassandra to the quiet, family-friendly Sithonia in the middle, you will surely find something you like.
There are so many family-friendly beaches around Halkidiki, it would be impossible to list them all. In Kassandra, you must visit the picturesque village of Afytos and its sandy beach. Sani and Kallithea are also excellent choices for families. Sithonia is less crowded and more suited for those who want a peaceful holiday. Koviou, Agios Ioannis, Karidi (photo) and Vourvourou are just some of the many family-friendly beaches in the area.
If you are thinking of visiting Halkidiki with the kids, you could take a look at our single parent holiday in Halkidiki's Kallithea on the beautiful Kassandra peninsula. Our 5-star all-inclusive hotel offers all the amenities you and the kids could wish for and the golden beach and crystal-clear waters are a beach lover's paradise!
How to get there: Thessaloniki airport is the nearest airport for Halkidiki. The transfer to Kassandra takes about an hour.
---
We intentionally left the more famous Greek islands such as Skiathos, Corfu and Mykonos out of this article. These places receive so much publicity that we thought it would be nice to focus on some of the hidden gems!
Don't forget to check out our friends at Stasher if you ever need luggage storage in Athens while you are waiting for a late departure from the airport or the port of Piraeus. You can see a lot of things in Athens in just a few hours, so don't let the opportunity pass. Summer is short — make the most out of it!